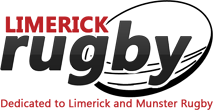 'Buddy' is banking on a history junior cup win for Richmond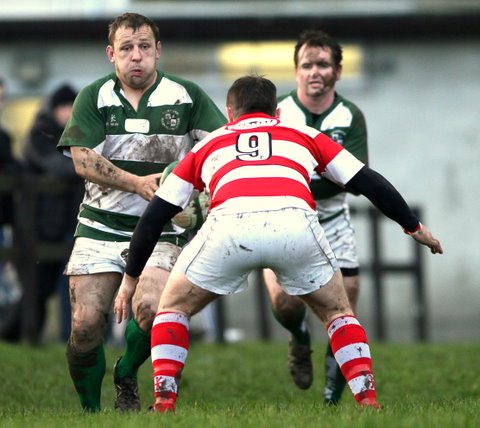 By Aidan Corr
WITH home advantage, Cork Constitution may be fancied to lift the junior cup when they take on Limerick side Richmond RFC in Irish Independent Park in Cork on Sunday. It has been a long journey since last January for Richmond, starting off their Bank of Ireland Munster Junior Cup campaign with more hope than confidence against Clanwilliam. Victory that day set up a meeting with Waterpark, which they also overcame, and the reward was a testing local derby against Garryowen in Dooradoyle.
It was this fixture, which saw veteran hooker Pat Humphreys (pictured) mark his return to the home of the light blues with a crucial try, that triggered a sense of optimism within the club that this could be their year.
Last Sunday's semi-final in Richmond Park was a special occasion. Seldom has the venue seen such excitement, the pitch was in perfect condition and the recently developed club pavilion, bar and facilities matching any of its kind in this city.
Speaking to limerickrugby.ie after the game, long-serving Richmond man Buddy Clancy had high praise for the manner in which the side performed: "They showed out there today that they can play rugby the way it should be played. We used the forwards to do the usual job but when we went wide our lads showed that they have great pace. We will go down to Cork next Sunday and give Con a right good game, you can be sure of that. It would be one of my greatest joys if we could just win that cup for the first time since 1952."
Richmond, who won the junior cup on four occasions (1936, 1943, 1946 and 1952), prides itself as a community rugby club. It is not an idle boast with family generations wearing the green jersey with pride since its foundation in 1928. Five of the players who will play next Sunday can boast that they are following their father's footsteps by playing in a Munster Junior Cup final with Richmond (1979 or 1990). Three of those on club duty in Irish Independent Park will remind us that their grandfathers lifted the junior cup trophy, one in 1943 and two of them in 1952. Family histories run through this club and it will be one of their proudest days if the current talented side can get the better of Cork Constitition.
"There has been a great buzz in the club since Sunday," Richmond press officer Natalie McNamara, whose brother Jeffrey will be playing in the final, told us. "We will have hundreds going to Cork to support us and already most of the busses are booked out. There is a great spirit in this side, they have come through a few very hard games on their way to the final and they showed in the semi-final that they have a backline that likes to run the ball."
Playing Cork Constitution in their own city is always a difficult challenge for Limerick sides, particularly in finals, but with the Cork side playing in the AIL semi-final on Saturday, Richmond will be hoping that their opponents may be below full-strength. Con sailed into this junior cup final with a 22-3 win over Clonmel in Temple Hill and there is little doubt that Richmond will have to be at their very best if they aren to get that first cup win since 1952
Bank of Ireland Munster Junior Cup semi-final:
Richmond 28, Kilfeacle and District 6
Going into last Sunday's semi-final, Richmond were regarded as underdogs. They rose to the challenge before their home supporters Richmond Park and deservedly advanced to the final.
Two first half penaltes from player/coach Tadhg Bennett gave Richmond a 6-0 cushion, but facing into a stiff breeze in the second period, it appeared that the momentum would be with the visitors. Changing tactics against a strong breeze, Richmond ran the ball at almost every opportunity after the break, forcing a penalty outside the Kilfeacle 22 and with the Tipperary side losing their out-half Jamie Heuston to the sin bin, Richmond took advantage, their pack driving over and Kieran Bennett getting the touchdown.
Kilfeacle responded with a penalty but, urged on by the their biggest support of the season, the green and whites replied almost immediately with a well-worked score. Jeffrey McNamara stepped inside a tackle to go clear but slipped two metres from the line, Tadhg Bennett continued the move and his skip pass sent full-back Keelan Stephenson over near the corner flag to increase the lead to 16-3. A second Kilfeacle penalty, this time from Jamie Heuston, reduced the lead to ten points but that was as near as Kilfeacle got to an unlikely comeback.
Their pack now dominating exchanges, Richmond added a further 12 points in the final ten minutes, replacement prop Corey Wells powering over and full back Keelan Stephenson finishing off a flowing backline movement with a sparkling try which was converted by Tadhg Bennett.
It was an impressive performance from the Canal Bank side who must now fancy their chances of bridging a junior cup famine that goes back to 1952.
Richmond: Keelan Stephenson; Jeffrey McNamara, Gareth O'Hanlon, Michael Kelleher, Kieran Bennett; Tadhg Bennett, Ryan Meagher; Gerard Barry, Pat Humphreys, James Reeves; Barry Laffan, Jonathan Tully; Kealan McMahon, Gearoid Phelan, Eoin Hanley. Replacements, Dillon Cotter, Corey Wells, Dean O'Halloran, Sean Bennett, Brian Mullins, Sami Farag, Jack O'Hanlon.
Kilfeacle and District: James Hogan; Ciaran Lowry, Darren Lowry, Shane Looby, Keith Burke; Jamie Heuston, Gavin Heuston; Patrick McNamara, James Ryan, Simon Barry; Diarmuid O'Donnell, Jack McLoughlin; Stephen Quirke, Oisin O'Meara, Kevin Kinane. Replacements, Ricky Whitney, Luke Ashmore, Conor O'Sullivan, Gavin McCormac, Patrick Ryan.
Whatever the result next Sunday, Richmond's second team will be back in action within a couple of days when they are listed to play Newcastle West in the final of the Transfield Cup. The curtain-raiser in Irish Independent Park on Sunday sees Bruff play Bantry Bay in the final of the Munster Junior Bowl, kick-off 12.30pm.
Webb Cup semi-final, Old Crescent 17, Garryowen 3: Tries on the stroke of half time and full time saw Crescent advance to the final of this competition last Tuesday night in Rosbrien. Mark Phayer kicked an early penalty for Old Crescent and they held this slight lead right up to the 39th minutes when Garryowen levelled it with a similar effort from the tee. With the final play of the half Crescent went back into the lead, Niall Liston getting in for a try which Mark Phayer converted for a 10-3 half-time lead.
Garryowen tried hard to get back into the game but with the clock edging towards the 80th minutes, Old Crescent sealed the win when Karl Moloney got over and Mark Phayer's conversion gave his side victory by a 14 point margin.
Last week-end, Old Crescent suffered a heavy defeat in the final of the Munster Seconds League when they went down 7-45 to Cork Constitution in Temple Hill.
Fixtures, Sunday, April 29, Bank of Ireland Munster Junior Cup, Cork Constitution v Richmond, Irish Independent Park, Cork, 3pm; Munster Junior Bowl final, Bantry Bay v Bruff, Irish Independent Park, Cork, 12.30pm; Martin O'Sullivan Cup final, Dungarvan v Ennis, Clanwilliam Park, kick-off 2.30 pm.