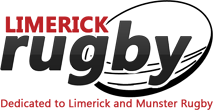 Garryowen FC cling onto their 1A AIL status

Ulster Bank AIL play-off final:
Garryowen 18, ULBohemian 13
GARRYOWEN held onto their AIL division one A status with a narrow victory over local rivals UL Bohemian in a tight play-off final encounter in Dooradoyle this afternoon. On the run of play, the light blues just about deserved the win and it was greeted with as much relief as joy by the home support.
With 34 minutes played, Garryowen enjoyed an 8-3 lead thanks to an unconverted try by Steve McMahon and a Neil Cronin penalty, Rick McKenna keeping Bohs in touch from a penalty and the home side held that scoreline, against the wind, at half time. Two minutes after the break, Garryowen increased their lead when Neil Cronin landed a long distance penalty to make it 11-3.
This game was certainly going to go down to the wire and a second Rick McKenna penalty brought it back to a five point game with 50 minutes played. The light blues reply was swift, outhalf David Johnston getting over for a try which was converted by Neil Cronin to increase the home lead to 18-6 on 55 minutes.
If the home supporters thought they were home and dry, UL Bohemian rocked them again with five minutes to go, Colin Ryan scoring a try and Rick McKenna's conversion again reducing the lead to just five points at 18-13.
The final stages were tense with Garryowen clinging onto their 1A status but they held out. UL Bohemian will no doubt be regretting their failure to nail the automatic promotion spot in the final games of the 1B league competition. For the winners, the sound of 'Hurray for Garryowen' has seldom sounded sweeter.
Garryowen: Liam Combes; Steven McMahon, Sam Arnold, David McCarthy, Andrew O'Byrne; Daid Johnston, Neil Cronin; Niall Horan, Diarmuid Barron, JP Phelan; Sean O'Connor, Barra O'Byrne; Tim Ferguson, Mikey Wilson, Bailey Falloon. Replacements, Eamonn Costelloe, Michael O'Donnell, Jonathan Keane, Hugh O'Brien-Cunningham, Ronan O'Halloran, Barry McNamara, Peadar Collins.
ULBohemian: Joe Murray; Cian Aherne, Harry Fleming, Rick McKenna, Colin Ryan; Robbie Burke, James Lennon; Joey Conway, Joe Bennett, Michael Lynch; Dara Frawley, Noel Kinane; James Ryan, Ian Condell, Brian Walsh. Replacements, 16, Ed Kelly, 17 Pauric Nesbitt, 18 Peter King, 19, Pat Staff, 20, Finbarr Aherne.