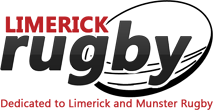 Guilfoyle takes over as Crescent head coach
(Pictured, Old Crescent's new head coach Brendan Guilfoyle in scoring action for his club)
HAVING just missed out on promotion in the Ulster Bank All-Ireland League last season, Old Crescent senior players and management are determined to go one better in 2017/18.
The club are delighted to announce their new senior coaching management structure which sees Brendan Guilfoyle take over from Joe Nix as Head Coach next season. Brendan will, of course, continue to lead by example on the field.
Club PRO Frank Larkin writes: "Old Crescent expresses its sincere thanks to Joe Nix for his hard work and commitment to the club over the last three years as Head Coach with the senior side and we are delighted that Joe will continue to be involved with senior rugby in Old Crescent. Eugene McGovern and Brian Touhy will continue in their roles as Director of Rugby and Backs Coach to the senior team. Tommy Pratt will continue as Chairman of Rugby.