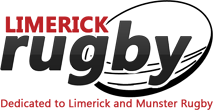 Limerick clubs march on in the B of I Munster Junior Cup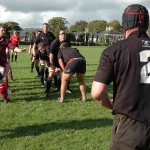 By Aidan Corr
THERE were wins today for Richmond, Newcastle West and Shannon and all three are safely into the next round of the Bank of Ireland Munster Junior Cup. In the Munster Junior League 2, St Mary's came away from a muddy Currabowen with a victory that sees them edge closer to the leaders with a game in hand.
Bank of Ireland Munster Junior Cup:
Galbally 0, Newcastle West 15: The West had to battle hard against the bottom team in MJL1 to qualify for the next phase of this highly-competitive cup competition. All the scores came in the first half with tries from Darragh O'Shea and Tommy Kelliher and a conversion and penalty from Sean Herlihy giving the visitors a 0-15 half time lead.
The second half was hard-fought but Newcastle West held out for a deserved victory.
Richmond 24, Waterpark 22: This was certainly the match of the day, Richmond getting the winning seven pointer with two minutes remaining. It took the Limerick side just three minutes to get the first score, Gearoid Phelan getting over for a try and Tadhg Bennett kicking the conversion for a 7-0 lead. A Bennett penalty on 12 minutes pushed that lead to 10-0 but it was Waterpark who took over from there, a brace of penalties reducing the lead to four points at half-time.
Two further Waterpark penalties saw Waterpark jump into a 10-12 lead after 44 minutes and six minutes later the Richmond faithful were silenced when Waterpark got in for a converted try and a 10-19 lead. Richmond replied with a try to make the score 17-19 but again Waterpark responded with a penalty to put five points between the teams at 17-22.
In a frenetic finale Richmond launched an attack on the visitors line and Dean O'Halloran became the hero of the hour by scoring a try on 78 minutes which was converted by Tadhg Bennett for a 24-22 victory and a place in the quarter finals of the Munster Junior Cup, where they will the winners of Garryowen and Mitchelstown.
Shannon 45, UCC 12: Shannon indicated their cup ambitions with this emphatic win in Coonagh over the Students. The Parish Seconds were in try-scoring mood with Adam Moloney, Pa Ryan, Luke Moylan, Jack O'Halloran, Keith Kavanagh and Mike O'Gorman all dotting down over the whitewash. Keith Kavanagh was also in kicking form, adding four conversions to his try.
On this form, Shannon will be one to watch as this competition progresses.
Munster Junior League, division two:
Waterford City 10, St Mary's 17: Played in atrocious conditions the 'Saints' showed great courage and resolve to get a precious four league points which puts them into promotion contention. Allowing an under 18 match to be played on the pitch prior to the fixture did little for the improvement of the surface and this game was deserving of the 'mudbath' category. St Mary's claimed they should not have had a try disallowed but they were happy, under the circumstances, to get the victory.
Playing with the hill in the first half, the 'Saints' had tries from Darragh Kerley and Robin Gallagher with Paul Loughran kicking two conversions and a penalty. City came back with an un-converted try in each half. St Mary's, who were forced to travel with a squad of 18 due to mounting injuries and work commitments, missed a number of good try chances during the 80 minutes which could have resulted in a winning bonus point.