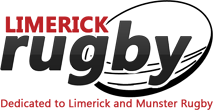 Limerick junior clubs 'blown out' of cups over the week-end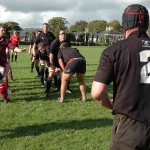 By Aidan Corr
THERE was no joy for Limerick's four participants in the Munster Junior Challenge Cup and Shield competitions this week-end. St Mary's went down heavily at home to Clonakilty in the Shield on Saturday night while Newcastle West, Galbally and Abbeyfeale all lost this afternoon in the cup.
Munster Junior Clubs Challenge Cup:
Clonmel 24, Newcastle West 5: The 'West' put up a good show in this game in Tipperary and they were well in contention at the break when they trailed by just eight points. Darragh Joyce's try had kept them in the game at that stage but Clonmel scored 11 unanswered points in the second half to clinch the win and a meeting with Richmond on November 19 in the next round in Grove Island.
Galbally 5, Kilfeacle and District 16: This was a very spirited performance by Galbally but once again they failed to get over the winning line. Brendan Childs got the Galbally score but on this occasion Kilfeacle just about deserved their victory and a home game against Kanturk in the next round of this competition.
Kanturk 18, Abbeyfeale 17: After playing their hearts out for most of this game at the County Cork venue, Abbeyfeale conceded a try in the dying minutes that deprived them of a victory that they could well have snatched.
'Feale had held a four point lead going into that last two minutes but in dramatic fashion Kanturk kicked a penalty into the 22, won the lineout and they spread the ball wide for their full-back to make a superb break through the middle for the match-winning try.
Abbeyfeale's scores came from a try by Philip Daly, two penalties by Stevie Daly and two penalties from Tom Hassett. Abbeyfeale's scrum was solid throughout and a few missed chances could have put the game beyond Kanturk before that late score.
In the other games in this competition, Skibbereen beat Youghal 19-12, Clanwillian had a 24-18 victory over St Senan's and Waterpark beat Cobh Pirates 34-19.
Munster Junior Challenge Shield:
St Mary's 25, Clonakilty 51
WITH 65 minutes remaining the sides were locked together at 25-25 and it looked as if the pendulum would slide in favour of the home side in Grove Island last night.
A few injuries and 20 minutes later, the 'Saints' must have been
wishing for the final whistle after a late four-try onslaught by the
visitors put them deservedly into the next round of this competition.
St Mary's started as if they were going to coast through this cup game and they led 10-0 after ten minutes. The blue and whites had a third try and a penalty before the break but Clonakilty always looked
dangerous on the flanks and they led 20-18 early in the second half.
Another 'Clon' try saw the Cork side increase their lead to 25-18 but St Mary's battled back, driving through the middle and Matthew Hickey won the race for the touchdown. Paul Loughran added the conversion and now it was level at 25-25.
That was about as good as it got for St Mary's. A few injuries forced
them to empty their bench and Clonakilty ran riot in the last quarter,
running in four tries and three conversions.
St Mary's had their scores from Paul Loughran, Mark Gibbons, Michael Gallagher and Matt Hickey with Paul Loughran kicking a conversion and a penalty. Clonakilty had their scores from Mark Purcell, Rob Howick, Ogie Scannell, Shane Scannell, Olan Deane and Alex O'Mahony a try each with Mark Purcell kicking the rest of the points.
St Mary's had beaten Clonakilty 32-10 in the Munster Junior League a few weeks ago but they were without six of that side for tonight's game, four from the pack and two backs. Clonakilty looked a different side from their last visit and fully deserved their victory.
In the Gleeson League St Mary's had a 36-0 win over St Senan's and in the Munster 2nds League the Nenagh and Young Munster game was called off. Bruff host Old Crescent in Kilballyowen on this Monday night, 7.30 (weather permitting).