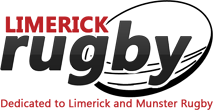 Newcastle West are back in the race for the junior league title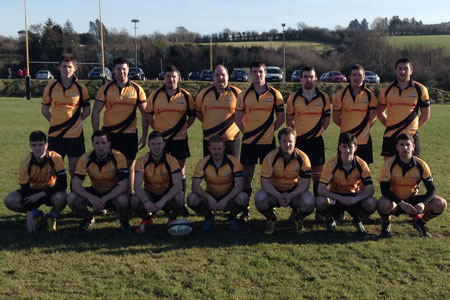 (Pictured, Abbeyfeale RFC, almost assured of division one status)
By Aidan Corr
THE Munster Junior League race was blown wide open today when Clonmel lost at home by a single point to Kilfeacle and District and second-placed Newcastle West snatched a bonus point victory in Cullinagh over visitors Crosshaven.
Those results mean that with three games remaining, Clonmel are still on top but their lead is cut to four points. Their next game is a trip to Limerick to play Richmond. Hot on their heels are Newcastle West, who had to dig deep today after leading 19-0 at halftime, visitors Crosshaven going ahead 19-21 deep into the second half. The outcome of this league battle will depend on Clonmel dropping further points, although the outcome is still in their own hands.
Clonmel's remaining games see them play Richmond away, Waterpark away and Bandon in the final game at home. Newcastle West's run-in to what has been a tight and competitive league race reads, away to Skibbereen, home to Galbally and finally a visit to Grove Island to play St Mary's.
Here are the details of today's games:
MJL1, Clanwilliam 27, St Mary's 10: The Saints suffered another defeat and their fate appears to be decided with just those three games remaining, home to Abbeyfeale, away to St Senan's and home to Newcastle West. Their young side again put up a creditable performance today in Tipperary but they just did not have the ability to sustain their effort over the full 80 minutes, Clanwilliam recording a comfortable victory in the end.
(Tim Mulcahy reports) Newcastle West 27 (T4), Crosshaven 21, (T3)
WITH a bonus point win at home this Sunday and Clonmel losing at home to Kilfeacle, a glimmer of hope appeared regarding the league and we now trail Clonmel by four points with three matches remaining..
Leading 19–0 at half time with tries from Gerald Griffin, Sean Murphy and James Kelly, two of which were converted by Sean Herlihy, it looked like we were heading for a handy win and would be toasting success at 4 pm.
However Crosshaven had a different take on things and dug deep to put in a huge second half performance. They got the first of three second half converted tries in the 49th min of the game. The home team were now under severe pressure from a resurgent Crosshaven and they got a second try in the 58th min to make it 19-14. The hammer blow came four minutes later when Crosshaven scored another converted try to take the lead at 19-21.The home side looked as if they had fallen asleep.
Thankfully panic did not set in and a Damian Kelly try put the 'West' ahead in the 67th minute. Sean Herlihy then kicked a penalty for the home side in the 73rd minute to bring the score to 27-21 meaning the visitors would need a converted try to take the spoils.
Crosshaven pushed hard for another try and they were unlucky at the end of the game not to score as Declan Edwards' charges hung on tenaciously. Some questions need to be asked as to how NCW almost imploded in the second half but with three to go, this bonus point victory could yet be crucial.
Scorers, tries, Gerald Griffin, Sean Murphy, James Kelly, Damian Kelly. Sean Herlihy two conversions and one penalty.
Squad: Shane Magner, Caolan Moloney, Declan Moloney, Gerald Griffin, Dave Foley, Brian o Doherty, Alan O Riordan, Keelan Headd, James Kelly, Sean Herlihy Capt., Tommy Kelleher Jnr, Ed Powell, Sean Murphy, Michael Bourke, Sean Ivess, Damián Kelly, Donal O Sullivan, Taliolega Tuaau, Kenneth Browne, Aaron O'Brien, Jason Woulfe. James Walsh.
The Transfield Cup Final takes place on Sunday 27th January at 2.30 in the Markets Field. We play our neighbours Abbeyfeale, and as we know, there is very little between these two teams.It is great to have two county clubs competing for one of the oldest cups in the game in these parts.
Abbeyfeale 33, Galbally 22: This was a terrific derby game with both sides keen to play expansive rugby. The win for Abbeyfeale eases their relegation worries while Galbally look as if they also will be safe if they can get something from their remaining games St Senan's, Newcastle West and Crosshaven.
Philip Collins (nephew of former Munster Branch official the late Paul Collins) gave a man of the match performance in this game for Abbeyfeale with a hat-trick of tries. He touched down twice in the opening half, added his third hat-trick try in the second period and Derry O'Connor dotted down late in the game to give his side the winning bonus point. Galbally put up a great show in this highly entertaining fixture.
Waterpark 39, Richmond 24: Unless there is a run of freak results over the coming three weeks, it is unlikely that Richmond will be back in the mix for the title. This defeat in Waterford sees them remain in fifth positiokn and ten points adrift of leaders Clonmel. Richmond played well in the first half and led 10-12 at the break but they lost their way in the second 40 minutes, leaking 29 points to their hosts.
Sean Considine scored two tries in the opening half, one converted by Brian Mullins but a second half penalty try and a try from Jack O'Hanlon was all they could muster up as Waterpark hit try-scoring form in the second half.