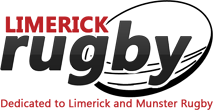 No city representation on Munster junior side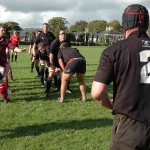 MUNSTER'S junior side will be trying to bounce back from their defeat to Ulster when they take on Leinster today at Newcastle West, kick off 2.30pm. A number of County Limerick club players are included in the Munster matchday squad but not one city player has got into the frame, Richmond, St Mary's and Presentation all drawing blanks as far as the selectors were concerned.
Leinster got their campaign off to a winning start with a late penalty win over Connacht but they could find it more difficult when they make the trip to West Limerick.
Eoin O'Connor side wish to retain the National title they won last year, victory against a Leinster side who defeated Connacht with a last minute penalty in their opening game is a must.
The changes are in the back row where Kilfeacle & District's Kevin Kinnane and Brian McLoughlin start in place of Castleisland's Kieran Downey and Old Christians' Aidan Ware who both drop to the bench.
Meanwhile Darren Collins (Muskerry) is added to the replacements as the Juniors aim to get back on the winning track against Leinster, following last Saturday's false start against Ulster, where John Lillis' penalty was the only score in a 20-3 defeat at Randalstown.
Sean Herlihy will be starting on the bench, but will be hoping to pull on a Munster jersey and get some game time in front of a home-town crowd at Cullinagh.
Munster Junior Side to face Leinster: Derry O'Connor (Abbeyfeale); Scott Hornibrook (Waterpark), Eoin O'Dwyer (Thurles), Tom O'Callaghan (Mitchelstown), Dan Horgan (Muskerry); John Lillis (Thurles), Nicky Irwin (Thurles); Robert Brockhert (St Mary's), Mike Cronin (Castleisland), Rory Hannon (Waterpark); Kevin Phelan (Waterpark), Brendan Childs (Galbally); Kevin Kinnane (Kilfeacle), Brian McLoughlin (Kilfeacle), David O'Donoghue (Waterpark) Capt.
Replacements from: Tom Doyle (Kilfeacle), Darren Collins (Muskerry), Pa Ryan (St Senan's), Aidan Ware (Old Christians), Kieran Downey (Castleisland), Brian Collins (St Senan's), Sean Herlihy (Newcastle West), Aidan O'Dwyer (Thurles), Luke Kelly (Thurles).