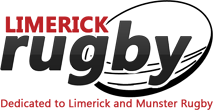 Richmond make it third time lucky with McInerney Cup victory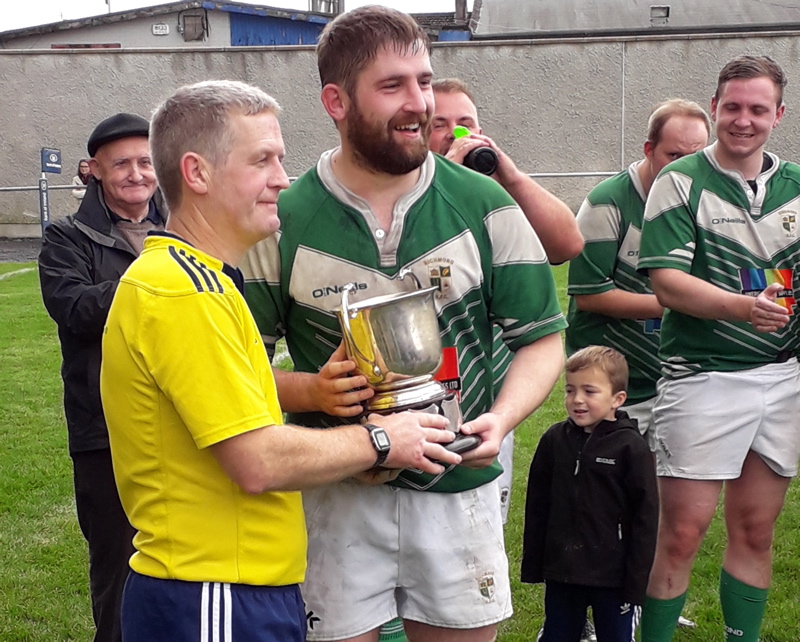 (Pictured, Referee Adrian McInerney presents Richmond captain Eoghan Aherne with the McInerney Cup today in Thomond Park)
By Aidan Corr
In Thomond Park
McInerney Cup final:
Richmond 16, Garryowen 12
ALTHOUGH they lost a player to a red card and one to a yellow in the opening five minutes, and two more at various stages of the second half, Richmond had just that little bit extra than their Dooradoyle opponents in this entertaining decider on the back pitch of headquarters today. After losing two finals in the last few years, Richmond were over-joyed with their success.
To their credit, Garryowen really put it up to their opponents in the second period after trailing 11-5 at the break and with a little bit more cohesion in their attacking play, could have clawed the lead back. Their converted try, however, came too late in the game and it was the green and whites who lifted the season's first silverware.
With out-half Brian Mullins dictating matters, Richmond enjoyed most of the play in the opening half. They got the crucial first score, Shane Halpin making a searing break and right winger Ross Walsh going over with some ease. Mullins missed the conversion but the ten continued to keep his side on the offensive with a series of pin-pointed kicks with the right boot.
Richmond increased their lead to 8-0 with 15 minutes played and it was no more than they deserved, Brian Mullins's penalty kick sailing between the posts. Garryowen responded with some good work from Andrew Flavin, Luke Guinane and Luke Gardiner and their efforts were rewarded when second-row Samuel O'Rourke crashed over. Kevin McEvoy was off-target with the conversion.
A second Brian Mullins penalty on 30 minutes saw Richmond increase their lead to 11-5 and that was to be the half time score.
The Canal Bank side increased their advantage eight minutes into the second half, outside centre Shane Halpin skipping inside the cover and showing his strength to score close to the left corner. Mullins was short with the conversion but Richmond, who now led 16-5, did not get close to adding to that tally for the rest of the game.
Garryowen showed great determination and although they dominated the last quarter, their ploy of continually taking the ball down the middle proved unproductive. With a few minutes remaining the light blues eventually broke down the Ricmond defence and number eight Daryl Smyth got in for a try which Kevin McEvoy converted.
There was one last gasp effort from Garryowen with seconds to go but they conceded a penalty at the breakdown to the relief and delight of the Richmond support.
Richmond:Niall Benson; Ross Walsh, Shane Halplin, Keith McCarthy, Luke Kennedy; Brian Mullins, David Clancy; Ciaran O'Hanlon, Gerard O'Byrne, Dean O'Neill; Riann O'Dwyer, Kevin Madden; Eoghan Brennan, Eoghan Aherne, Dillon Cotter. Replacements, Thomas Madden, Patrick McNamara, Rian McNamara, Brian O'Neill, Dara Clancy.
Garryowen: Lorcan Bourke; Luke Gardiner, James Maher, Dara Shanahan, John Stack; Kevin McEvoy, Charley Colling; Andrew Flavin, Ruairi Kavanagh, Michael O'Connor; Samuel O'Rourke, Tadhg McCloskey; Conor Slattery, Luke Guinane, Daryl Smyth. Replacements, Brian Moran, David Griffin, Florian Byrnes, RicardoLopez Nebot, Robert White.