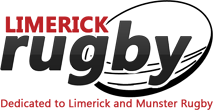 Running a new rugby club can be a costly and challenging undertaking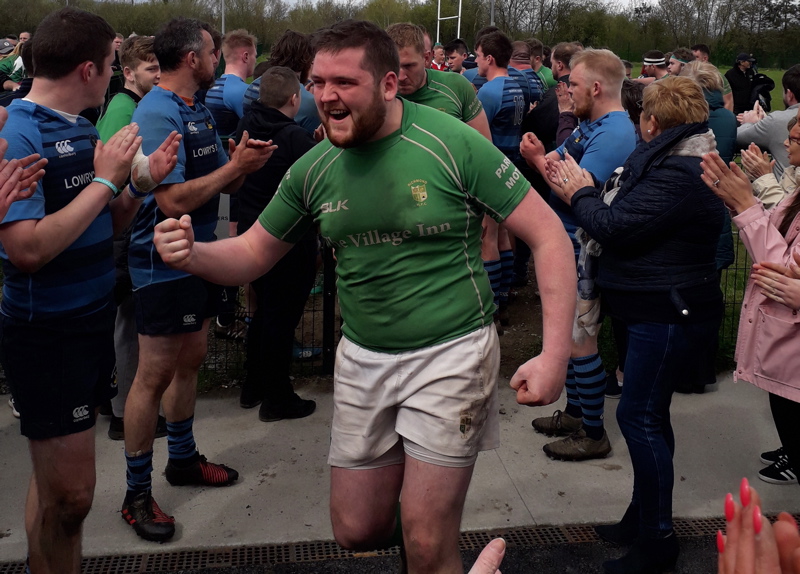 (Pictured, Richmond celebrate their win in the 2018 Junior Cup semi-final)
By Frank Quinn and Aidan Corr
WITH the possibility of a new club joining the Limerick scene over the coming weeks, the cost of running a rugby team has been highlighted through the massive reaction the story on this site has generated. Not alone are some junior clubs battling to acquire the services of experienced players (front-rows and out-halves particularly), but the off-the-field task of balancing the books continues to be equally challenging.
According to one Limerick junior club official this week, the reality of the situation is clear: poor turnouts at pre-season training, player drain to the capital due to work opportunities and, in this club's situation, some reluctance to playing every Sunday. Cost of insurance for one team for a season is currently running at €2,450 minimum and you can double that if you field a second fifteen, while gate receipts for most clubs are moderate to say the least. The emergence and popularity of the ladies game also has to be funded while the contribution from the IRFU per season, according to one source, is roughly €2,700 for a junior club
In contrast, the recent IRFU financial report for season 2017/18 was described by CEO Philip Browne as, "a record breaking one in terms of team and financial performance." It showed that total income was up by a whopping €9 million on the previous season
According to the financial report, Domestic and Community rugby gets €10.6 million (in 2009 it was €10.5 million from a total income of €57 million at 18% of expenditure). Income this year was €86m, an increase of 51% on 2009.) The cost of the professional game has jumped to 68% of total revenue – from €35m to €42m in the same period. Broken down, that reads YDO/Provincial staff €3.8M, Community rugby and other funding €2.2m, Domestic competition €0.3m, Refereeing development €0.5m, Participation rugby €0.6m, Youths and Schools €0.5m.
Clubs and Schools support runs out at €1.1m, which is 10.4% of this expenditure and 1.3% of the total expenditure compared to 68% of the professional game. Even allowing for the fact that the professional game brings in 95% of the total income, one could argue that the domestic and community rugby sectors should expect to benefit and receive greater financial support from these reported revenue increases. The expenditure has remained the same while the total income has jumped ahead. For example, if domestic and community rugby had received 18% of the total costs of the Union in the 2017/2018 accounts it would have received €15m.
There is no record in the accounts of the 200 clubs receiving extra benefit or even the 50 clubs in the AIL system receiving assistance for the upgrading and improvement of their facilities and rugby standards. If the 50 AIL clubs were to receive €50,000 each in grants it would cost €2.5m.
It is a prudent financial return in view of the costs of hosting the Womens Rugby World Cup given as €3 million and the estimated cost of the failed RWC bid at €3 million+.
The international team results not alone saved the year, but resulted in a surplus for a very well run IRFU machine. The Union's turnover has reached €86m at April 2018 and with an exciting Guinness Series in November, the Six Nations tournament to come in the spring of 2019 leading to the RWC in Japan in the autumn, the future is looking as bright as the current heat wave for Irish Rugby. However, we don't think that anyone is going to get carried away, as we are only as good as the last game. But we can dream!
Joe Schmidt has certainly played his part and Philip Browne included him in his report amongst his accolades: "
"It is thanks to Joe Schmidt and his management team, the provincial management teams and all the players, as well as the loyal and ever increasing number of supporters who attend games, purchase merchandise and drive our team on to winning performances," he added.
The Accounts:
Total Income: € 85.7M, an increase of €9M on previous year
Total expenditure: € 84.5m – a net surplus of 1.2m
Income representative matches € 84.2m – Other income € 3m
Less loss on Joint venture € 2m
95% of the total income comes from the representative matches – i.e. the professional game
There are no government grants shown in the accounts
Expenditure:
Professional game costs 42m, Elite player development (professional) 14m = 56m
This is 68% of total expenditure
Other costs: Domestic and community rugby 10.6m, 12.6%
Administration € 8.6m 10.2%
Amortisation 6m – 7%
Marketing 2m, Grounds 2.4m, Depreciation 1.3m,
Domestic and Community rugby €10.6m:
YDO/Provincial staff € 3.8m, Community rugby and other funding €2.2m. Domestic competition €0 .3m. Referee development € 0.5m, Participation rugby €0.6m, Youths and schools €0.5m
Representative matches
International rugby: € 42.3m
Commercial income: €11m,
Deferred ticket sales: €16m
Interprovincial competition: €12.4M
Tangible fixed assets; €80M
Loan to Munster Branch: €7M
Rental income: Aviva stadium €750,000, Thomond Park €9,600
Debtors: €24.3m – sponsorship and tickets
Creditors: €21m. – Trade 16m Advance income 5M
Expenditure breakdown:
National Tours – camps and squads €1.4m
National match costs €3.8m
Player and Management costs €37.2m
Total €42.4m
Elite Player expenditure
Womens representative teams €3m
Sevens €484,000
U20's €611,000
Academies €2.93M
High performance unit €3.3m
Total €10.8m
Referees: €573,000
Expenditure on grounds: €2.44m
Domestic and Community rugby:
2018 – €10.6m, 2017 €9.9m, 2016 €9.2m (total income was €73m in 2016)
The official statement from the IRFU reads:
"The IRFU had budgeted for a deficit of over €4m for the 2017/18 season, due to the anticipated net costs of hosting the Women's Rugby World Cup and the Rugby World Cup 2023 bid together with increasing the investment in the domestic game and the player development pathway. After posting a €2.8m loss for 2016/17 the IRFU forecasted it would not return to break-even until 2018/19".
"However, a Grand Slam win for Ireland's men, Champions Cup glory for Leinster and the advancement of Munster to two semi-finals resulted in significant financial improvement for the Union".
"In one of the most successful seasons ever recorded for Irish teams, IRFU revenues rose by €9.1m (to over €85.7m) with €6.3m of this increase attributable to the international team and €2m derived from provincial team activities".
Expenditure at national team and provincial level increased to over €42m inclusive of bonuses payable to players for international and provincial success.
"Expenditure on elite player development increased to €10.8m due to increased investment in the Academies and High Performance areas together with the net costs of hosting Women's Rugby World Cup 2017. In total over €3m was spent on Women's Rugby at the elite level compared with just under €2.2m in 2016/17".
"Expenditure on the domestic game accounted for 13% of the overall spend (€10.6m, an increase of almost €0.7m from 2016/17)".