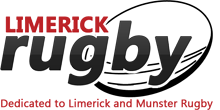 BIG Red Cloud and PRO14 Rugby can confirm the refereeing panel that will be in place for...

(Old Crescent putting pressure on the Garryowen defence in Ennis yesterday) THERE was a double disappointment for...

CLONTARF will play Cork Constitution next Sunday in the final of the All-Ireland League 1A in the...

IF Munster are to lift the Guinness PRO14 Championship trophy this season they are going to have...

Guinness PRO14 Championship: Aidan Corr, Thomond Park Munster 27, Connacht 14 ROOM to improve is likely to...

IT was a day of disappointment in Kilballyowen this afternoon for home side Bruff. Their great wins...

AFTER their great win last week-end in Midleton, their second victory over the County Cork side on...

UL BOHEMIAN women's team are on the crest of more glory when they travel to Donnybrook's Energia...

TONIGHT'S Munster Rugby Awards 2019 at the University Concert Hall in Limerick was a gala affair. The...