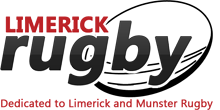 Achilles injury will keep John Hodnett out for a while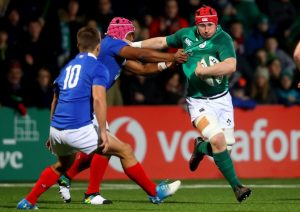 WITH the rising intensity of rugby a cause for concern the risk of injury, even within training sessions, is on the increase. The news last night that three Munster players were sidelined by the club's medical department highlights the fine margin between high levels of fitness and a split second of impact that can change players' fortunes. Thankfully, none of the three withdrawals yesterday will rule a player out for the season. Liam Coombes (minor hamstring) and Alex McHenry (surgery for a thumb injury) should be available for action within a few weeks but John Hodnett (pictured) sustained, according to a Munster Rugby press release, "an Achilles tendon injury. The Academy back row will undergo surgery early next week before commencing his rehabilitation programme."
The Roscarberry man spoke to the media last Wednesday and appeared to be in rare form but an injury in training has now forced him to face surgery early next week before commencing his rehabilitation programme. On top of Munster's worries, they also reported last night that "a fourth player is already self-isolating after returning a positive Covid test result from Monday's PCR testing. The player remains well, and no other players have been identified as close contacts."
One has to be impressed with the manner in which John Hodnett guided his career from his late teens to premier status in such a short time and it is most regretful that he now has a temporary break from the game. A former GAA player with his local club, John told us this week that he had played with a number of the current Cork senior football players. He also mentioned that he had got some good feedback from the Munster coaches following his performances in recent games and how he liked to style his play on that of Sean O'Brien, Tommy O'Donnell and Australian back-row David Pocock.
"I love playing at eight but as long as I am selected I will play anywhere," John told us this week. "I got great coaching from Brian Walsh with UCC and we were promoted to 1A in the All-Ireland League a few seasons back. As a forward my strengths are at the breakdown, carrying and poaching. I am pleased that referees are now very strict on those who come in from the side as this can cause some horrible injuries."
The risk of serious injury has always been part of the rugby game but at the top level, when a player is just dipping his or her toe into the highest echelons of their sport and have their progress halted through a training ground injury, it is particularly difficult. No doubt, all Munster fans will wish John Hadnett a full and speedy recovery and we all look forward to his quick return.