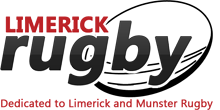 Big chance for Richmond to go for 'the treble'

RICHMOND could make a piece of history this Saturday when they travel to Coolmines to take on Creggs in the All-Ireland Round Robin. With the Munster Junior Cup safely in their trophy cupboard and a quarter final claimed in the Munster Junior Cup, the Canal Bank side will have their sights set on a good start in this AIL competition and make a bold bid for their second major success this season. The opposition, Creggs RFC, are based in Galwey and will provide a tough test for the Limerick side, but going on the consistency and united spirit of this current Richmond side, they will be confident of getting off to a winning start. The other two teams in the Round Robin, Clogher Valley and Bective Rangers, may be a different proposition so it is important that the boys in green win this opening game. There are two local teams in action the following day (Sunday). Galbally-Mitchelstown will take on Dungarvan in the Munster Junior Clubs Shield Final where victory for the amalgamated side would end a fairytale season for the two clubs in their first season. St Mary's are also in action and play Newcastle West in Grove Island in the Munster Junior League while Clonakilty will welcome Abbeyfeale to The Vale in the same competition.
Kick-off 2.30pm unless otherwise stated.
Saturday, 1st April:
All Ireland Round Robin: Clogher Valley v Bective Rangers, Coolmines, 1pm;
Richmond v Creggs, Coolmines,3pm.
Sunday, 2nd April:
Women's AIL Junior Cup: Enniskillen v M.U. Barnhall,Mullaghmeen,1pm.
Tullamore v Skibbereen, Spollanstown, 1pm.
Munster Junior League Section A: Clanwilliam v Thurles,Clanwilliam Park.
Clonakilty v Abbeyfeale, The Vale.
Skibbereen v Waterpark, Skibbereen.
St. Mary's v Newcastle West, Grove Island.
Munster Junior League Play-Offs: Charleville v Youghal,Charleville.
Kanturk v Kinsale,Kanturk.
Munster Junior Clubs Shield Final: Dungarvan v Galbally-Mitchelstown,Fermoy.