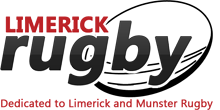 Conan Doyle takes over at Garryowen FC
By Christy Barry
WELCOME to the third edition of the Garryowen FC newsletter. In this edition, we do a final wrap up on the season and cover some of the successes in league and cup campaigns over the past 3-4 weeks.
It remain for the club to wish all our players, members and supporters an enjoyable summer season. We look forward with hope rather optimism that we will see long sunny days ahead. See you all back to Dooradoyle in August/September.
All paid up members should note that the AGM is scheduled for Wednesday 28th May in the Clubhouse @ 8pm.
As always – If you have any comments, suggestions, articles, photos or video that you would like to be included in the next publication, please email us at: garryowenfc10@gmail.com
Seniors
Our Seniors closed out the season with an impressive display against league contenders Old Belvedere. With RTE camera in situ, the lads kicked in a very strong performance and emerged victorious by 23-18. It was a day full of drama as the result delivered the surprise of the season, with Clontarf leap-frogging Old Belvedere to clinch the title. Our commiserations went out to ex-GFC coach Paul Cunningham, but we had a job to do and we did it well.
On the same afternoon, the Club chose to honour the victorious AIL Division 1 team from 1994. It was great to welcome back some of the great players of the time.
Following the departure of Tom Tierney to take up the lead position with Cork Con, Conan Doyle has been appointed Head coach of the Senior squad for season 2014/15.
Conan has played for a number of years with our Senior squad as inside centre. He has made two appearances for Munster Rugby in the Magners League. While at Munster he was selected for the Ireland national team for the 2009 Rugby World Cup Sevens. As head coach, Conan has been central to bringing two back-to-back Senior Schools Cups to Crescent College Comprehensive.
Seconds
Our Seconds went down 9-6 in extra time to Highfield in the Munster Senior Seconds League Final.
The management and coaching team of Rob Laffan , Dave Ryan and Fintan Richardson would like to thank the players and supporters for their commitment throughout the season
U20
U20's were defeated by Shannon in the City Cup Final. Scoreline 11-9.
Reflecting on the season, we must mention that the U20 won the Shane Geoghegan Tournament last September. Tug of War Final v St Marys. Video here
The management and coaching team of Tony O'Rourke, Gary Waite, Cian Callaghan, Dermot McInerney, Dermot Waters, Ger Baggott and Dara Walsh would like to thank the players and supporters for their commitment throughout the season
Thirds
Our 3rds finished off their great season with a memorial cup match with near rivals Old Crescent in the "Tony Murray Cup". On a day for nothing more other than the high stool !!! both teams took to the field in Rosbrien. It was a very even game from the kick off with a very high level of skill on show for such harsh weather conditions. Fortunately Garryowen FC came through in the end winning 22-10. Pictured is captain on the day Daniel Lenihan who played his last game for the Garryowen 3rds. I would like to take this opportunity to thank Danny for all the time and effort he put into the Garryowen 3rds, especially in the last number of years. He was our captain both on and off the field for many years and leaves another massive void in the Garryowen 3rds Front Row. We wish both himself and wife Norma all the best in the future and look forward to seeing his twin boys causing "havoc" in Dooradoyle just like his dad used to. Bernard (Skiver) Carroll – Team Manager * The Editor offers congrats to the Carroll family on the birth of their daughter on May1st.
Daniel Lenihan who played his last game for the Garryowen 3rds
Ready for the high stool!
U18 – Double Champions.
Our U18 won both North Munster and Closed Cups this season to complete a double. Match reports follow:
North Munster Cup: A 63 minute try by Bailey Faloon proved the decisive score as the light blues beat a gallant Young Munster team 13-3 in Rosbrien on Thursday evening. Peadar Collins converted and also kicked two penalties before an appreciative attendance
North Munster Closed Cup: Garryowen victorious v Young Munsters with a score line of 19-11.
The opening try was from Garryowen's full back Kieran Bennett who showed great pace and determination to run in his try from 40 meters alluding several tackles on the way. The try was converted by Peadar Collins. Young Munster's replied with 2 penalties and just before half time the Garryowen No. 8 Dylan Mc Mahon scored their second try from a set scrum just on the Young Munster 22 meter line. The No 8 picked from the back of the scrum saw a gap and secured another 5 points…. Peadar Collins converted. The Score at half time was 14-6.
Young Munster scored the opening try of the second half and failed to convert leaving the score line 14 – 11. A battle ensued with a lot of great defending from both sides but Garryowen closed off the game with a third try from winger Gary O'Sullivan, created from a superb break from centre Peadar Collins down the right side was well supported by Arron Nunan on the inside who timed his pass perfectly and off loaded the ball to Gary O'sullivan to touch down in the corner to give Garryowen a 19-11 victory.
Special thanks goes out to all the other players who came to support their team mates on the pitch and more importantly in the dressing room before and after the match.
Well done and commiserations to Young Munsters who made it a great game of rugby and a credit to both clubs.
Garryowen FC lined out as follows:
Eoin Sheehan (c), Darragh Joyce, Tom Neville, Andrew Reeves, Eimhin Prendergast, Patrick Judd, Conor Slattery, Dylan McMahon, Sam Gleeson, Hugh O'Brien-Cunningham, Gary O'Sullivan, Nathan Clancy, Peadar Collins, Arron Nunan, Kieran Bennett.
Subs: Anson Thai Bailey Faloon, Aaron Fitzgerald, Eoin Murnane, Eoin Hourigan, Robert Fleming, Jordan Young, Jack Hanrahan.
U15s
North Munster Cup Final Result: Young Munsters 27 Garryowen FC 23
U15 League Champions had a rematch with Young Munsters in the North Munster Cup Final played on the back pitch in Thomond Park. Our valiant U15s came back from trailing 22-8 just after half time to being within an agonising 4 points of beating Young Munsters in a thrilling final. Credit to both sides for producing some fabulous rugby and only for some untimely injuries during the game our 15s may just have snatched it and it certainly wasn't for the want of trying! Well done to all our U15s squad, coaches, mentors and their parents on winning the League and getting to the Cup Final.
Our team for the NM Cup Final lined out as follows:
Ben Leahy, Jack Hennessey, David Nevin, Brian Noonan, Sean Burton, Callum Brand, Dan Feasey, Fintan Coleman, Evan Maher, Michael Fenton, Garry Quilligan, Cian Murphy, Nevil O'Sullivan, Sean Wilmott, John Hurley.
Subs: Arron Stacey, Conor Hellewell, Emmet Browne, Colin Tuite, Jamin Hoffmann, Brian Fitzgerald, Morgan Hanley, Sean Hanley, Kevin LeGear, Cathal Quane, John Lillis, Andrew Walsh, John Taylor.
U14s North Munster Cup Champions 2013-2014
Garryowen FC 17 Ennis 8, Thomond Park on 26th April 2014
There were great scenes of joy and celebration in Thomond Park last Saturday after Garryowen U-14s had to battle for a hard-earned win against a very well-drilled Ennis XV. While conditions on the day were not ideal, both teams showed incredible skill and ability to produce an enthralling game which was very much appreciated by the very large support on the sideline. Unlike our previous games in the Cup, we came out of the blocks much quicker than usual and our quick rucking game led to 2 opportunities that we turned into scores from Liam Wilson and John Hurley to give us an early 10-0 lead. Perhaps the key to us bringing the 10-0 lead through to half-time was the defensive display that every player produced just before the break, when Ennis pounded our line but were unable to cross our line….the work-rate from our boys was really top-class.
The second half started much in the same vein as the first one had ended in that Ennis had a lot of possession and only for some handling errors from the Ennis players along with strong defence from our guys, our line might have been breached. Eventually, we did concede a penalty under our posts that was converted by Ennis to leave the score 10-03 with 12mins left on the clock. It was definitely squeaky-bum time for us as Ennis seemed to be dominating the possession stakes at that stage but it has to be said that this Garryowen u-14 are made of stern stuff as once again the defensive pressure from our boys forced the error by Ennis and the ball was turned over and picked up by John Hurley in our own 22. Normally you would expect a player to clear his lines in a situation like this but this guy had a different plan….John looked up and saw that there was space out wide and decided to attack it, and once he got in behind Ennis there was only ever going to be on result…try under the post which he also converted. That score effectively broke the Ennis resilience and while they did rally to get a try in the last play of the game, it was Garryowen's day.
This was a remarkable squad performance as they had to earn this trophy with wins against all top sides in the previous rounds and it would not be fair to single out any one player….everyone of the squad played their part in bringing this Cup back to Dooradoyle. It was great to hear Hurray for Garryowen being sung in Thomond Park again on Cup final day.
Great praise has to go to the coaches that have helped throughout the year: Dan Larkin, Stephen Tuohy, Joe Giltinane, Tony O'Dwyer and the head-honcho Enda Ahearne…..Enda has worked above and beyond the call of duty in terms of arranging training, arranging matches and texting and contacting parents throughout the year…a true blue.
Special thanks to all of the parents who keep bringing the kids to training and matches throughout the year, especially in the wild winter that we have just had. Without their dedication, we would not have the panels to field the 2 teams that we did throughout the year.
Our team lined out as follows:
Ferdia Lyons, Cillin O'Brien, Bill Fitzgerald, Cian McDonagh, Cillian O'Malley, Eoghan Fitzgerald, Jack Johnson, Conor Fitzgerald (c), David Ahearne, Evan Barrett, Liam Wilson, Jamin Hoffmann, John Hurley, Evan O'Sullivan, Daniel Larkin.
Subs: Stephen Clery, Ross Fitzgerald, Arron Clifford, Joe O'Brien, Cian Tuohy, David Woods.
U12s Tour to London Irish 27th April 2014
Coaches: John Cunneen, Conor Cosgrove, Brian White, Ronan Hanrahan and Paddy Keogh
Players: Adam White, Ben Cosgrove, Ben McEnery, Chris Guerin, Cian O'Reilly, Ciaran Galvin, Damien Keogh, Des Fitzgerald, Diarmuid Harnett-Browne, Dylan Scanlon, Eoghan Carter, Frank Dooley, Gavin Collins, Jack Neilan, Jack O'Donovan, Jake Vaughan, James White, Jamie Galvin, Jason Casey, Jeremy O'Connor, Joe LeGear, Jonathan Doocey, Keith Punch, Liam O'Sullivan, Louis Cunneen, Mark O'Connor, Oliver O'Neill, Oran O'Reilly, Peter Myers and Rian O'Connell
Our U12s travelled to the London Irish Mini Festival on Sunday 27th April 2014. Both teams represented Garryowen FC so well and although didn't win any trophies, they played their best and left everything on the pitch. Well done to all the players, their coaches and their parents for making the trip so successful. Results were:
U12A Bowl competition Garryowen beaten finalists by Dolphin
U12B Cup Competition Garryowen beaten finalists by London Irish
Munster Rugby Summer Camp at Garryowen FC 30th June to 4th July 2014
The ever popular Munster Rugby Summer Camps are back for Summer 2014.
This summer the Munster Rugby Summery Camp takes place in Garryowen FC from 30th June to 4th July (Monday through to Friday inclusive – 9.30am to 1.30pm).
Camp places are available for boys and girls from 6 years old to 12 years old
The cost is €85 per child after May 1st. Additional children from the same family can attend for the discounted rate of €75 per child. Please see www.munsterrugby.com for further details re booking etc.
Each participant will receive an Official Summer Camp Pack comprising an Adidas Summer Camp T-Shirt, Adidas Shorts, Adidas Socks, Adidas Draw-String Bag, Mouth Guard and one Junior ticket to a Munster pre-season match.
Children who participate in the camps will get the chance to make new friends, learn more about rugby values such as team work, respect and integrity, and also become more aware of the importance of physical fitness. All this while learning to develop the basic rugby skills of passing, tackling (in a controlled environment), evasion and kicking. Most of all we guarantee lots of fun!
To facilitate the appropriate attention, participants will be divided by their age into groups. Central to the Munster Rugby Summer Camps philosophy is ensuring the introduction to the game of Rugby in a safe and controlled manner.
The Camps will be managed and run by fully accredited I.R.F.U. Mini Rugby coaches. All Summer Camp staff have undertaken the National Garda Vetting process required to comply with the IRFU policy regarding recruitment and vetting to work in age grade rugby.