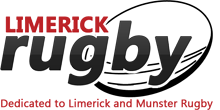 English clubs' wretched record at Thomond Park: 21 defeats, 2 wins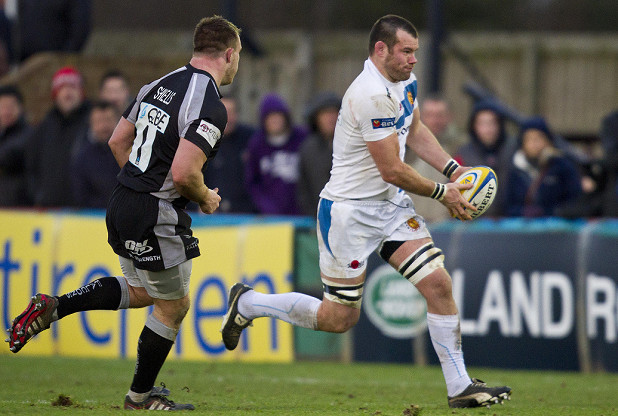 (Pictured, Shannon's Tom Hayes in action when playing with Exeter)
By Aidan Corr
WHEN it comes to hosting English Premiership clubs at Limerick's Thomond Park, Munster have always been welcoming but ferociously unyielding and Exeter will have to be at their very best on Saturday if they are to buck the trend.
The southern province takes particular delight in lowering the colours of any English visitors and including their first win against Wasps at the famous ground in Heineken Cup 1997, they have been victorious on 21 occasions. Only Leicester (6-13) in 2007 and Leicester again in 2016 (19-31) have succeeded in leaving Mayorstone in triumphant mood.
The full break-down of English Premiership sides visiting Limerick in European Heineken Cup pool games reads: 1997 Munster 49, Wasps 22; 1998, Munster 23, Harlequins 16; 2000, Munster 31, Saracens 30; 2001, Munster 31, Bath 9; 2002, Munster 51, Harlequins 17; 2003, Munster 33, Gloucester 6; 2004, Munster 35, Gloucester 14; 2005, Munster 15, Harlequins 9; 2006, Munster 31, Sale 9; 2007, Munster 6, Leicester 13; 2008, Munster 19, Wasps 3; 2009, Munster 37, Sale 14; 2010, Munster 12, Northampton 9; 2010, (Quarter final) Munster 33, Northampton 19; 2011, Munster 28, London Irish 14; 2012, Munster 23, Northampton 21; 2013, Munster 15, Saracens 9; 2014, Munster 26, Gloucester 10; 2015, Munster 14, Saracens 3; 2016, Munster 19, Leicester 31; 2017, Munster 38, Leicester 0; 2018, Munster 33, Leicester 10; 2019, Munster 36, Gloucester 22.
Earlier this week Exeter have been having a bit of a moan about the limited time they have been given to prepare for this most important game of pool 2, Munster playing on Friday night and Exeter having a shorter turn-around after their game against Castres last Sunday. When the tie kicks-off on Saturday at 5.30, that little inconvenience will mean as little as the referee's first puff of his whistle.
What is different about this fixture is that Exeter showed against Castres last week-end that they are serious about progressing in this competition. It will be their first visit to Thomond Park, they will be determined to make an impression and if they can be within touching distance into the second half, well, anything could happen. Munster, on the other hand, are on a roll after three impressives wins over Leinster, Connacht and Gloucester. They look like a side that, not alone is rock solid in every position on the field, but can tog out eight replacements of equal quality. That is a bonus that Munster seldom enjoyed in the past and could make the difference at the end of the 80 minutes.