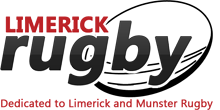 Friday night's local derby kicks off AIL 14/15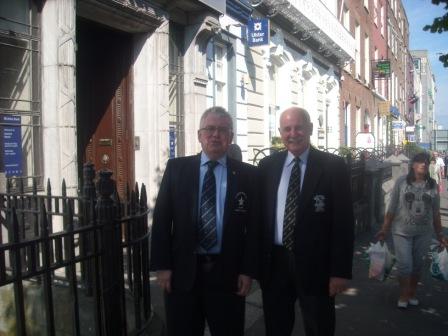 By Christy Barry
(Club presidents Michael O'Connor of Garryowen and Tadhg Crowe of Shannon are looking forward to Friday night)
LIMERICK rivals, both of whom originated in famed St Mary's parish, Garryowen and Shannon will come face to face as the first round of games in the 2014/15 Ulster Bank All-Ireland League kicks off this Friday night in Dooradoyle, 7.30pm.
From a Garryowen perspective It is imperative they get off to a good start as they endeavour to regain their place in the top echelons of Irish club rugby. A large attendance is anticipated and all Garryowen supporters are asked to arrive early as some parking restrictions will apply due to the numbers expected.
Prematch function will be held at €25 per head. Main course, dessert and wine, tea or coffee.Contact Geraldine Morrissey on 087 2466815 for bookings.
Post match will be chicken goujons and chips for supporters
Garryowen's senior competitive campaign of 2014/15 commenced in Bruff last Saturday afternoon (6th Sept) with a hard earned victory over the home side in the opening round of the Limerick Charity Cup. Garryowen led by 15 points to 9 at the interval, courtesy of tries from Andrew O'Byrne and James Frawley in addition to a penalty and a conversion from Jamie Gavin.
The sides kicked a penalty each early in the second half and midway through the half a converted try from Bruff put them ahead 19 points to 18. However Garryowen finished reasonably well and a penalty apiece from both Jamie Gavin and Fionn Mc Gibney concluded the scoring with the light blues 24-19 ahead.
Garryowen team: Lorcan Bourke, James Frawley, Andrew O'Byrne, James Mc Inerney, Cian O'Shea, Jamie Gavin, Neil Cronin, Peter O'Shea, Ed Rossiter, J.P. Cooney, Paul Mc Carroll, Aaron Closkey, Elliot Fitzgerald, Barry O'Mahoney, Josh Hrstich.
Replacements:
Rory Brosnan for Peter O'Shea
Eamonn Costelloe for Ed Rossiter
Mark Hanrahan for AaronMcCloskey
Tobi Ademakin for Barry O'Mahohey
Jamie Glynn for Neil Cronin
Fionn Mc Gibney for Jamie Gavin
The annual Shane Geoghegan Memorial tournament, held in Dooradoyle last Saturday and organised by the Garryowen F.C. thirds was yet again a resounding success. Great credit is due to all those who set up the events of the day and all those who participated on and off the field. Shannon RFC were the eventual winners of the GAGSY 10's.