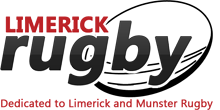 Game against Stade a make or break cup tie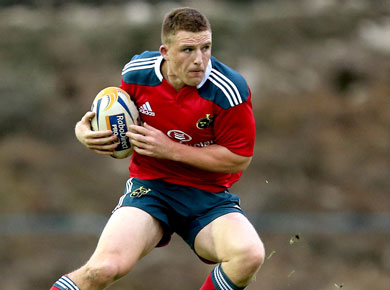 (Pictured, Andrew Conway has slotted in well at full-back)
By Frank Quinn
AFTER three games in Pool 4, Munster are playing catch-up if they want to qualify for the quarter-finals of this season's European Clubs Champions Cup.
But their chances of a late revival are in their own hands. If they can get a win in Paris over Stade Francais (and they are well capable of achieving that), then it is 'game on' with Stade coming to Thomond Park and a bonus point victory over Treviso in Italy within their radar.
Even at the moment, despite the back to back defeats by Leicester Tigers, Munster are on the verge of a qualifier place, lying in third place in pool four on five points from three rounds.
It promises to be hectic start to 2016 for the reds with three games in January which includes a home and away against Stade Francais and that possible five pointer win away to Treviso.
Leicester has 18 points to Munster's 5 (game in hand) and they also have a game against Treviso (zero points from four games). Stade still has a serious interest in qualifying on ten points from three games.
As Stade Francais are the big danger to Munster in this pool, the Reds have qualifications in their own hands. Because Treviso is in this pool it is looked upon as the pool to provide a second place qualifier behind Leicester Tigers ­ who meet Stade
in the final game.
The standings after round four are:
1. Saracens 19 pts, 2. Leicester 18pts, 3. Wasps 14 pts, joint 4/5. Ospreys 12 pts and Racing Metro 12 pts. Who head their respective pools.
The five pool winners and the three best runner­ups qualify for the knockout quarter­ finals in April 2016.
There are outstanding games from the four rounds to be played on the second weekend of January before immediately running into rounds five and six:
Pool 1 ­ Oyonnax V Ulster, Pool 2­ Bordeaux V Clermont, Pool 3 Racing M V
Glasgow, Pool 4 Stade F. V Munster, Pool 5 Toulon v. Bath
All of these games will have a bearing on the final eight who make it through to the qualifiers for the 2016 tournament.
From an Irish perspective
Ulster is our best and realistic chance; they play Oyonnax in a dead rubber in the postponed game and again in the final game in round six. The French club are out of the running having lost their three games played.
Ulster also play unbeaten pool leaders Saracens away in round five, they may have to settle for a second place qualifying position and an away quarter­final
Leinster, the champions from 2009, 2011 & 2012 will not qualify for the knockout stages after losing four from four. They play Bath home and Wasps away in January in dead rubbers for them to complete the pool stages.
Summary: the final eight could look like this:
Saracens, Leicester, Wasps, Clermont, Racing Metro, Stade/Munster, Toulon, Ulster.
Outright Betting:
Saracens & Toulon 3/1, Racing Metro 7/2, Clermont 9/2, Leicester 9/1, Wasps 22/1, Stade Francais 25/1, Ulster & Northampton 40/1 80/1 bar.