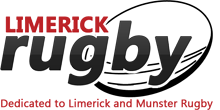 Get out and support your local clubs this week-end

By Aidan Corr
WITH most focus on the Heineken Champions Cup this week-end, the AIL again takes second place for most rugby fans. All our competing clubs are in action on Saturday. In 1A Young Munster travel to take on league leaders Cork Constitution and it would be a major achievement if they could come away with a victory. The Cork side are unbeaten so far and have had two victories over the black and ambers in recent weeks, one in the AIL in Greenfields and more recently in the final of the Bank of Ireland Munster Senior Cup. The omens are not good for the visitors to Temple Hill, but they will certainly want to come away with some points. Garryowen are home to UCD. Both sides are on 30 points and share second place in the 1A table. This one has all the makings of a cracker, get to Dooradoyle and be entertained on Saturday, kick-off 2.30.
Thomond Park's back pitch will stage another exciting enconter when Shannon host 1B league leaders Highfield. 15 points separate the sides with the Cork side galloping towards promotion for 1a at the speed of a race horse. Shannon are in seventh place and need a victory to set themselves up for a late surge up the table over the coming weeks. Victory over Highfield would be a tremendous achievement but the Parish side are capable of an upset, mostly when they are playing in front of their own supporters on home soil.
In 2A fourth placed forth placed Old Crescent have been playing some sparkling rugby all season, providing fans with terrific entertainment. They travel to play Buccaneers tomorrow, which is a tough venue to go to. A win for the Rosbrien side would put them in a strong position for a play-off place. UL Bohemian have improved in recent outings and they will be hoping to continue that good form with a home victory over Cashel. The Tipperary side are a slick outfit and will not be easily beaten but if Bohs can succeed in taking the points, it would be a major boost to their survival prospects. In 2C Bruff who are in sixth place in their division, make the journey to Tullamore. It's a tough fixture for the county side and they will do well to take any points back to Limerick from this fixture.
IRFU referees will be involved in the action across the Champions Cup, Challenge Cup and all five divisions of the Men's Energia AIL. In the Champions Cup on Saturday Frank Murphy has the whistle for Gloucester v Montpellier with Andy Brace and Robert O'Sullivan providing AR support at Kingsholm. Meanwhile in the Challenge Cup Joy Neville is in Italy to officiate at the Pata Stadium where Calvisano host Pau. Joy will be supported by Jonny Erskine and Richard Kerr on the touchlines. At the Stade Armandie Sean Gallagher will be the man in the middle as Agen welcome Wasps in the Challenge Cup. Nigel Correll and Oisin Quinn are on AR duty. On Sunday George Clancy completes the trio of Challenge Cup appointments as he takes control of Leicester Tigers against Cardiff Blues at Welford Road. Chris Busby and Mark Patton providing AR support.
IRFU Referee Appointments :Saturday 11th January, 2020
EPCR Champions Cup, Gloucester v Montpellier: F. Murphy (Ref), A. Brace (AR1) R. O'Sullivan (AR2) EPCR Challenge Cup
Rugby Calvisano v Pau: J. Neville (Ref), J. Erskine (AR1), R. Kerr (AR2)
Agen v Wasps: S. Gallagher (Ref), N. Correll (AR1), O. Quinn (AR2)
Fixtures, Saturday, Energia AIL Div1a
Ballynahinch v Clontarf: E. Cross
Cork Constitution v Young Munster: P. Martin
Dublin University v Terenure College: S. Gaffikin
Garryowen v UCD: R. Horgan
Lansdowne v UCC: C. Busby
Energia AIL Div1b
Armagh v Banbridge: E. Hogan O'Connell
Navan v Naas: C. Hogan
Old Belvedere v St Mary's College: D. Carson
Shannon v Highfield: P. Haycock
Old Wesley v Malone: S. Kierans
Energia AIL Div2a
Ballymena v Rainey Old Boys: J. Peak
Buccaneers v Old Crescent: H. Richmond
Nenagh Ormond v Queen's University: A. Cole
UL Bohemians v Cashel: D.T. Blake
MU Barnhall v Dolphin: G Sheridan
Energia AIL Div2b
Ballina v Sligo: K. Davison
Blackrock v Greystones: E. O'Shea
Dungannon v Belfast Harlequins: J. Wilson
Galwegians v Wanderers: T. O'Donoghue
Malahide v Corinthians: R. Watson
Energia AIL Div2c
Bangor v Enniscorthy: P. Sheehan
City of Derry v Midleton: M. Casey
Clonmel v Skerries: M. Scanlon
Sunday's Well v Omagh: P. O'Connor
Tullamore v Bruff: P. Reidy
Sunday 12th January, 2020
EPCR Challenge Cup
Leicester Tigers v Cardiff Blues: G. Clancy (Ref), C. Busby (AR1), M. Patton (AR2)