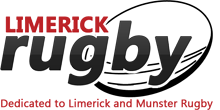 Gleeson league semi-final on this Saturday
THE delayed semi-final of the Gleeson League between St Mary's and Garryowen will take place in Grove Island this Saturday with a 2.30 kick-off.
The game has been held up for a number of weeks after a misunderstanding, the ruling body reviewed an earlier decision to award the tie to Garryowen.
There is still change in the decision of the Branch to remove six local clubs from the Webb Cup, a meeting last week failing to reach agreement.