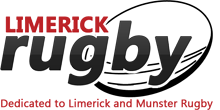 James Coughlan steps out of the red zone
(Pictured, James Coughlan shows his passion for Munster)
NUMBER eight James Coughlan will leave the province at the end of June bringing to a conclusion a brilliant career with the reds. His contribution to the province has been immense and he will be remembered for his courage, his outstanding ability to read the game, his massive commitment in every game he played and his pride in the red jersey.
James is currently contracted to the province until June 2015 but Munster Rugby have accepted the player's request for an early release from contract and support Coughlan in his decision to move abroad.
After playing 139 times for Munster and scoring 13 tries James Coughlan played his final game for the province against Glasgow Warriors in the RaboDirect PRO12 semi-final at Scotstoun Stadium on May 16th.
A late arrival to the professional game Coughlan joined Munster at 26 years of age after impressive performances at club level with Dolphin RFC in the All Ireland League. The back-row forward made his debut against Cardiff Blues in September 2006 at The Arms Park, and went on to make his Heineken Cup debut against Leicester Tigers in January 2007 in Thomond Park.
Battling for places in a highly contested area the Cork-man soon established himself as a regular in the squad, and over 8 seasons has become one of Munster's leading stars.
Recognised for his consistent and outstanding performances James has been an integral part of the Munster pack. His breakthrough season came in 2010/11 when he captained Munster to a historic 15-6 victory against Australia in Thomond Park and claimed the Munster Rugby Player of the Year award.
He was again shortlisted for the honour in 2012, and again this season, after playing on 25 occasions, scoring 4 tries and claiming 3 man-of-the-match awards. His journey also includes a Heineken Cup in 2008 and 2 Celtic League titles, in 2009 and 2011.
While full international recognition has eluded him despite being called up by Ireland on numerous occasions, the player, who turns 34 in December, has played for Ireland 7s and featured in the uncapped game against the Barbarians in May 2012, before captaining the Ireland Wolfhounds against the England Saxons in January 2013.
On confirming the move James Coughlan said, "This was a difficult decision for me to make. I was presented with an opportunity that I had to take for myself and my young family as we plan for our future. I want to thank Garrett (Fitzgerald) and the Professional Game Committee for their support in facilitating my request to leave the province.
"Playing for Munster has been a dream come through. I never thought I would have achieved what I have and the whole experience has been life-changing.
"I am so thankful for my career and the incredible support I have received along the way. It is with the heaviest of hearts that I am leaving but an amazing challenge awaits me and my family.
"My wife Katri and children Finn, Aoibhinn and Elsie have been an incredible support and we are really looking forward to the next chapter of our lives.
"I want to wish the Munster Rugby squad, staff and supporters all the success for the future and the five of us will continue to cheer you on!"
Commenting on Coughlan's departure Munster Rugby CEO Garrett Fitzgerald said, "James is an honest and committed player with a terrific work-rate, and he has delivered over and over again for Munster.
"He is an example to all aspiring players – dedication and hard-work at club level secured his fate as he broke into professional rugby and excelled as a player, something we are extremely thankful for.
"It is hard for us to release such a valuable asset but we fully support James and his family and wish them all the best with their move."