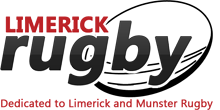 Junior Rugby round-up of week-end games

(Pictured, St Mary's RFC, 2014)
AFTER the high of topping the table the previous week, Newcastle West were cruelly brought back to earth last Sunday when their defeat at the hands of Kilfeacle and Clonmel's demolition of St Mary's put the Tipperary side back in poll position with three games remaining in MJL1.
"Clonmel are now four points clear of us," said a disappointed NCW's Ger Normoyle, "and we never really got going against Kilfeacle. Anything could happen yet, but the Tipperary boys have the winning of the title now in their own hands."
Newcastle West started very well and they silenced the big home support after just three minutes when James Kelly got in for a try. Two uncoverted tries from Kilfeacle and a penalty by Newcastle West's Alan Roche left the home side leading 10-8 at half time but three second half tries for Kilfeacle between the 50th and the 57th minutes turned this game on its head.
With Newcastle reeling from an almost constant onslaught, Kilfeacle finished with power with three further tries and while they failed to convert any of the seven touchdowns, they remained fully in control.
Newcastle West showed spirit by getting a late try by James Kelly, converted by Alan Roche, but there will be some serious talking in their camp before their next outing in this keenly contested league battle.
Hit by injuries, St Mary's travelled to Clonmel with more hope than confidence and came away without putting a score on the board. The home side ran in 41 points in what was one of the biggest defeats suffered by the blue and whites for some time in this MJL 1.
Galbally continued their recent good form with a 27-11 win over visitors Old Christians. The home side led 10-6 at half time thanks to tries from Kevin O'Donoghue and Brendan Childs and further second half tries by Michael O'Donovan, Jack O'Donovan and Brendan O'Halloran as well as a conversion by Sean Bourke gave Galbally a well-deserved bonus point victory.
Kinsale 17, St Senan's 31:
ST. Senan's travelled to Kinsale on Sunday last on a high after their impressive home victory against league leaders Clonmel the previous Sunday. However Kinsale hadn't read the script and led Senan's 17 points to 5 at halftime. However another impressive second half performance from Senan's gave them a 17-31 bonus point victory over the Cork side. Kinsale, aided by a very strong wind, went straight into the attack from the kickoff and put the first points on the board after they won a scrum against the head inside the Senan's 22. Fast moving hands resulted in the home side crossing under the post's, the conversion was good and Kinsale had a 7-0 lead after only 6 minutes. Senan's attacked straight away and were unlucky when they knocked on over the Kinsale line, however great work by the pack resulted in the Clare side winning the scrum against the head, the ball was quickly passed out the line and Jake Egan crossed for Senan's first try of the game. The difficult conversion from the sideline against a very strong wind drifted just wide.
The big Senan's travelling support expected their side to kick on from this but ot wasn't to be the case. Kinsale were the dominant team and were rewarded, ironically from a Senan's attack. Kinsale collected a wayward grubber kick to sprint down the line and cross for their second try of the game in the corner after 20 minutes of the first half. They were unlucky with the conversion but now had a 12-5 lead. Kinsale didn't drop the pressure they were applying and were rewarded again on the half hour mark, crossing for their third try of the game. Again the conversion was just wide but they now had a commanding 17-5 lead with 10 minutes left in the first half. Kinsale used their home advantage and strong wind at their backs and were inside the Senan's five yard line for the final five minutes of the first half trying to get their 4th try of the game, however some immense defending from the Senan's team prevented them from crossing the line and the Cork side lead 17-5 going into the half time break.
Some strong words were spoken during the halftime break by the Senan's captain and coaching team as they emerged for the second half a different team. The small mistakes that prevented them from getting going in the first half seemed to disappear and the confidence they had against Clonmel returned. Senans were rewarded after only three minutes of the second half when Warren Kelly crossed for his first try of the day in the corner. Declan Rowe kicked over a great conversion from the line and Senan's were back in the game 17-12. Senan's were the team in ascendatcy and crossed the line again after 20 minutes with Jamie Keogh tunnelling over for their third try of the game. Rowe who could do wrong with his boot kicked the conversion and Senans had the lead for the first time in the game 17-19.
Kinsale were awarded a penalty inside the Senan's half from the resulting drop off, but into the strong wind the kick was just wide. Senan's would secure the bonus point after Aidan McMahon who replaced try scoring Jake Egan, made a great break through the centre brushing of a number of tackles, Tom Cronin sniped in from the resulting ruck, the conversion just drifted wide and Senan's led 17-24 with 10 minutes left on the clock. Senan's secured victory after 34 minutes when Warren Kelly crossed for his second try of the day. Rowe again kicked the extras and Senan's had a 17-31 which they held to the finish.
This good bonus point win sees Senan's placed third in the League just one point ahead of Kilfeacle and District who are Senan's next league opponents at Jimmy Slattery Park on February 8th.
Senan's take a break this weekend and resume on February 1st when their Munster Junior cup campaign starts with an away fixture against UL Boh's in Limerick at 2pm.
St Senans: (1-15) Pat Ryan (capt) Fergal Lawlor,Michael Cusack, Martin Corbett, MJ McDonagh,Tom Galvin, Jamie Keogh,Ian Fitzgerald, Tom Cronin, Declan Rowe, Jake Egan, Shane Thompstone, Emile Mafiet, David Dunne, Warren Kelly
Replacements: Paul O Halloran for Cusack, Stephen Ryan for Corbett, Neil McDonagh for Keogh, Aidan McMahon for Jake Egan, Adam McEvoy for MJ McDonagh.
In the MJL division two, Presentation and Castleisland played out a thrilling 20-20 draw in Rathuard. Pres scored three tries, one each from Alan Airey, Craig Airey and Shane Enright with Alan Daly kicking a penalty and a conversion.
In the same division, Abbeyfeale continue to impress. This time they came away from Youghal with a two point victory, 13-11, in a nail-biting encounter.
Their man of the match Daniel Ward was superb in the lineouts and he made a few crucial steals as well as scoring his side's opening try. Their second try came from Daniel Murphy while Tom Hassett landed a penalty.
In the Gleeson League, St Mary's beat Kilrush 24-0. Their scores came from two tries by Jamie O'Sullivan and one from Stephen White with David O'Leary kicking two conversions. Called off were the meetings of Richmond and Galbally and Presentation and St Senan's.
Shannon top the Munster 2nds League after a comprehensive 42-7 victory over Richmond. Wayne Murphy converted the lone try by Stephen Collins for the Canal Bank side while Shannon's scores came from a hat-trick of touchdowns from hooker Liam Cronin with Eoin McCabe and Tom O'Neill sharing the other tries. Ronan Hunt kicked four conversions while Kieran Cunnane also kicked a penalty for the winners. According to team manager Percy Ryan, this is the second year in succession that Shannon have won this league and they are now looking forward to their Munster Junior Cup clash with Killorglin on February 1.
Shannon squad: G Britchfield, L Cronin, A O'Brien; P Kearns, C McCallum; R Meaney, D Quinlan, R Doherty; T O'Neill, K Cunnane; S Horgan, R Hunt, S Ryan, M Leonard, L Hogan, B McNamara, B Supple, C Rafferty, R Price.
The Nenagh v Garryowen, Thomond v UL Bohemian and Bruff v Old Crescent games did not take place.