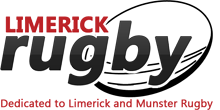 Limerick teams march on in the B of I Munster Senior Cup

By Aidan Corr
IF early season form means anything, three Limerick clubs outside of the highest echelon of Irish club rugby cannot be ruled out for Munster Senior Cup glory. 1B side Shannon advanced today with a deserved 28-8 away victory over junior side Kilfeacle; Old Crescent beat visitors to Rosbrien, Cashel 28-17, while UL Bohemians were in superb form in Irish Independent Park, beating Sunday's Well 16-45.
Bank of Ireland Munster Senior Cup:
Kilfeacle 8, Shannon 28: Jack O'Donnell was in rare form as the Parish side marched on. A hat-trick of tries for the centre as well as a try from Will Leonard contributed to this victory with Ben Daly and John O'Sullivan adding the other points from the kicking tee. The first half was a close affair with the sides locked at 8-8 but once Shannon found their rhythm there was only going to be one outcome.
Old Crescent 28, Cashel 17: This was a very entertaining game between two sides who were prepared to run the ball at every opportunity. It was 20 minutes into the game before the scoreboard official had to register the first score, a well-taken try from Old Crescent's Cathal Monaghan converted by Ronan McKenna. A minute before the break Cashel showed how dangerous they could be when they scored a try at the other end but failed with the conversion as the sides went in with Crescent leading 7-5.
The second half was as closely contested as the first. Crescent added tries from Garry Fitzgerald and Jack O'Mahony while the kicking of out-half Ronan McKenna contributed to the scoreboard keeper's busier second 40 minutes.
Sunday's Well 16, UL Bohemians 45: This was a significant cup victory for Bohs who have hit the ground running since the return of action. Jamie McNamara got in for an early for the Limerick side, converted by Darragh O'Grady and things were looking good for them at the break when they led 11-17. Tries followed from Paul Clancy, a second touchdown by Jamie McNamara and a brace in quick succession near the end from Niall O'Shea to seal a victory that promises more good days ahead for the Red Robins.
Fixtures in the Transfield Cup and the McInerney Cup were also featured this Saturday. In the Transfield competition Thomond won a high-scoring encounter in Liam Fitzgerald Park, beating St Senan's 46-21. In the McInerney Cup St Senan's seconds went down to Garryowen 3rds on a scoreline of 10-25.