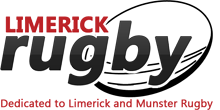 Munster Academy makes its plans for 2016/7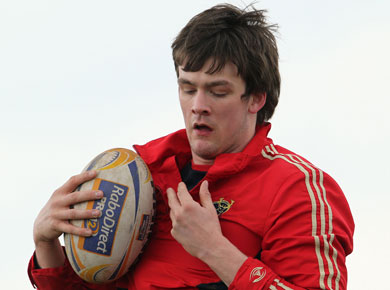 (Pictured, Sean McCarthy, gets senior Munster development contract)
JOY for some and disappointment for others as the Munster Academy announced their selections for their three grades. Further additions will be added over the coming months.
With Young Munster centre/put-half Gearoid Lyons already professionally contracted to Nottingham Rugby and Jack Cullen got to London Scottish, it is good to see locals David Johnston and Alex Wooton of Garryowen to senior Munster development contracts where they will join Rory Scannell, Sean McCarthy and John Madigan.
A number of other Limerick club players are included in the Academy's three-year grades.
With preseason now underway, to date seven new recruits have been added to the Greencore Munster Rugby Academy for the 2016/17 season with Ireland U20 stars Vincent O'Brien, Sean O'Connor and Shane Daly included in the new intake.
The trio, who played their part in securing a first World Rugby U20 Championship Final for Ireland, will be joined by Gavin Coombes, John Foley, Calvin Nash and Fineen Wycherley.
Fellow third year players Rory Burke and Greg O'Shea have had their time in the Academy extended by one year after a series of injuries hampered their development.
Shannon's Niall Horan and Cork Con's Ryan Foley, Darragh Moloney and Tomás Quinlan have completed their time with the programme.
As with previous seasons, should there be any further additions to the Academy, these will be announced in due course.
Year 3: Rory Burke (Prop/Cork Con), Greg O'Shea (Winger/Shannon), Stephen Fitzgerald (Fullback/Shannon), Dan Goggin (Centre/Young Munster), Brian Scott (Prop/Dolphin).
Year 2: Ned Hodson (Centre/Cork Con), Bill Johnston (Outhalf/Garryowen), Ben Kilkenny (Backrow/Young Munster), Ollie Lyons (Backrow/Shannon), Steven McMahon (Winger/Garryowen), Liam O'Connor (Prop/Cork Con), Conor Oliver (Backrow/Garryowen), JP Phelan (Prop/Garryowen).
Year 1: Gavin Coombes (Backrow/Bandon Grammar), Shane Daly (Centre/Cork Con), John Foley (Backrow/Shannon RFC), Calvin Nash (Centre/Crescent College Comprehensive), Vincent O'Brien (Hooker/Cork Con), Sean O'Connor (Lock/Cashel), Fineen Wycherley (Lock/Roscrea CC).