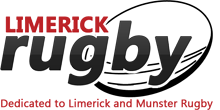 Munster meet Leinster in B&I Cup
(pic: John White Media)
THIS weekend's British & Irish Cup quarter-final line-up includes the four previous winners of the competition, with inaugural champions Cornish Pirates, Bristol Rugby, Munster A and current holders Leinster A all still in contention to lift the trophy for a second time.
They are joined in the last eight by GKIPA Championship sides and first-time quarter-finalists Leeds Carnegie, Plymouth Albion and Rotherham Titans, while Pontypridd, who reached the semi-finals in 2011, continue to be the flag bearers for Wales.
On Friday night Bristol Rugby are up against Rotherham Titans at the Memorial Stadium, Leeds welcome Plymouth to Headingley and Donnybrook hosts the all-Irish clash between Leinster and Munster. The Cornish Pirates v Pontypridd tie takes place on Sunday, kick-off 2pm at the Mennaye Field.
Bristol and Rotherham may be familiar foes in the Championship, but they have met only once in cup rugby: on December 22, 2002, when the sides were a division apart and First Division Rotherham pulled off a shock 24-19 victory against their Premiership opponents to make it through to the quarter-finals of the Powergen Cup for the first time in their history. This season Bristol have beaten Rotherham both home and away in the league and, as things stand, they could meet for a fourth time in the GKIPA play-offs.
Leeds and Plymouth are no strangers to each other either, and Friday's cup tie will be the first of two meetings at Headingley in the space of nine days with Albion due to return north in the league the following weekend. Glyn Hughes kicked five penalties to earn Carnegie a tense 15-14 victory when the sides met at Brickfields in the league on January 4. Albion have failed to win at Headingley in four previous attempts.
Leinster and Munster play each other in the knockout stages of the B&I Cup for the third year running, with the sides boasting one semi-final win apiece. On each occasion the winning side went on to lift the trophy. Munster were first on the board in 2012, winning 36-29 at the RDS in Dublin before going on to beat Cross Keys in the final, while last year Leinster followed up a 17-15 win over their arch-rivals with an equally tense win over Newcastle.
Cornish Pirates and Pontypridd have never played each other before in the B&I Cup. Welsh Principality Premiership leaders Pontypridd go into the fixture on the back of a 29-27 reverse at Aberavon – their first away defeat since October 2012, while the Pirates all but mathematically secured a top half of the table finish in the GKIPA Championship with a ninth straight win over cross-Tamar rivals Plymouth.
Friday April 4
Bristol Rugby v Rotherham Titans, KO 19:45
Leinster A v Munster A, KO 19:00
Leeds Carnegie v Plymouth Albion, KO 20:00
Sunday April 6
Cornish Pirates v Pontypridd, KO 14:00