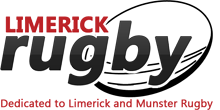 Munster sign Brumbies star centre
MUNSTER have boosted their squad for next season with the signing of Australian centre Andrew Smith. Currently playing with the UC Brumbies, Smith will be on a one year contract. Former forwars coach with Munster, Laurie Fisher, director of rugby with the Brumbies, was instrumental in arranging the move for the 6 foot 4 inch, 16 stone 5 pound 29-year-old.
Hailing from Sydney and a former member of the Waratahs Academy system, Smith has 43 Super Rugby caps after making his debut against the Blues in 2010.
The centre featured against the British and Irish Lions last summer when the Brumbies were the only provincial side to defeat them.
A statement from Munster Rugby quotes Smith as saying: "I'm really looking forward to joining Munster and making the most of the opportunity. Laurie Fisher has always spoken highly about the team and culture.  It's definitely somewhere I want to go and make an impact, working closely with the boys and training hard.  I've no doubt it will be a great experience and I can't wait to get stuck in."
Munster Rugby CEO Garrett Fitzgerald expressed his satisfaction with the signing: "We look forward to welcoming Andrew when he arrives at the end of his Super 15 commitments with the Brumbies.  We are delighted to have secured the services of a player of his calibre for next season."