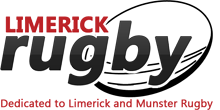 'Munsters' record another victory in their league quest

AIL February 26, 2023
WITH their comfortable win over Ballynahinch today in Tom Clifford Park, Young Munster march on in 1A of the Energia All Ireland League. For home side Garryowen it was another day of disappointment with Shannon beating the light blues on their own turf while in 2A UL Bohemians got a welcome victory over Old Crescent by a single point. In 2C, Bruff scored an early try but it was their only score of the game against an in-form Ballina.
Eneregia 1A, Young Munster 24, Ballynahinch 16: The early stages were evenly contested but Young Munster got their noses in front with Munster star Pat Campbell getting over and Evan Cusack adding the conversion. Ballynahinch had their moments but just a few minutes before the break Shay McCarthy scored his side's second try which was also converted by Evan Cusack to give the home side a 14-0 advantage. With their defence succeeding in keeping their line intact, the Greenfields struck again late in the game. Sean Rigney made an exciting break which resulted in the referee awarding a penalty try. The win gives Young Munsters more breathing space and they are now six points clear of Ballynahinch.
Garryowen 16, Shannon 26: THE light blues put up a good show in this game but their city rivals took the laurels. Shannon got the opening score with Dan Hurley touching down and Mike Cooke adding the conversion, on 29 minutes Garryowen replied with a Tony Butler penalty t, o being the score to 3-7. A try by Michael Mbaud, converted by Butler but Shannon went two points ahead thanks to a try from Jordan Prenderville 10-12. Garryowen went into a 13-12 lead as this half heated up and it was Shannon who led at the break when Alan Flannery dotted down to make it 13-17.
A Mike Cooke penalty increased the visitors' lead to 13-20, Tony Butler replied with a similar score but two late penalties from Cooke gave Shannon a welcome victory.
2A, Old Crescent 18, UL Bohemians 19: THIS was a typical local derby game but it was the visitors who shaded it dramatically in injury time. Bohs scored a try by Alan Kiely after just four minutes and they increased their lead to 12-0 when after a tap penalty, Richie Wallace raced over after 12 minutes. A try for Old Crescent converted by McKenna brought the score to 7-12, Harry Byrne increased the Bohs lead to 7-15 and it was 10-15 at the break with McKenna adding a penalty for the home side. With 64 minutes played Old Crescent scored their second try, this time Cathal O'Reilly dotting down, converted by Ronan McKenna and the home side were now in the lead at 17-15. In a welter of excitement Bohs snatched the win at the death, Harry Byrne sending the difficult penalty kick between the posts.
2C, Ballina 27, Bruff 5: THE early stages of this game were close and the sides were level at 5-5. After that Bruff appeared to lose their way and it was the Westerners who went on to take the full points.
Up next in this competition next Saturday: Young Munster are away to Lansdowne, Garryowen are at home to Cork Constitution and Shannon are at home to Clontarf. In 2A Old Crescent travel to Navan and UL Bohemians are at home to Dolphin and in 2C Bruff will welcome Bangor to Kilballyowen.