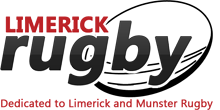 Old Crescent announce new appointments
Pictured, Old Crescent RFC, Senior Rugby Management Team 2014-15, l-r, Eugene McGovern, Director of Rugby; Joe Nix, Head Coach; and Shane Landers, 1st Team Manager. Missing from photo, Padraig O'Connor, Chairman of Rugby.
By Frank Larkin
FIRMLY believing in Winston Churchill's dictum to never let a good crisis go to waste, Old Crescent RFC has moved quickly to put the disappointment of relegation to AIL Division 2B behind them by appointing a new senior rugby management team who have been tasked with ensuring a swift return for Old Crescent RFC to AIL Division 2A rugby.
Pádraic 'Paudi' O'Connor will be the new Chairman of Rugby and he will be assisted by Director of Rugby, Eugene McGovern; Head Coach, Joe Nix; and First Team Manager, Shane Landers. The new team has a wealth of rugby management experience both on and off the field.
Pádraic has been a long-time player and member of Old Crescent RFC. He will bring his proven organisational and leadership skills to the job, and will build on the strong traditions already in place at the Club. Pádraic said "he was privileged to be given the opportunity to work with this exciting new team of talented and hardworking club members".
Old Crescent RFC also announced its new Under 20 management team. The U20 team will be led by David O'Malley, Manager, with Eugene McGovern as Head Coach. They will be assisted by Pat Rickard, Assistant Coach; John Hogan, Backs Coach; Keith Lyons, Assistant Backs Coach; James Cullinane, Forwards Coach; and Alan Bennie, Strength and Conditioning Coach.
Club President, Chris Cullinan, thanked the previous rugby management team for their efforts and congratulated the new teams on their appointments. He said he was particularly pleased and proud that the new management teams are 'home grown', all being long time active members and players with the Club. He called on everyone in Old Crescent RFC to give their support to the new senior rugby management teams in tackling the sporting challenges that lie ahead next season.