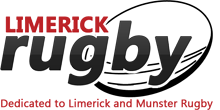 Old Crescent thirds lift the Webb Cup tonight
(Pictured, members of the Webb family at the presentation of the Webb Cup to the Old Crescent captain tonight at Richmond RFC. On the right is Munster Branch official Brian Nolan)
Webb Cup final:
Old Crescent 28, Garryowen Thirds 20
LEADING 10-0 after ten minutes, Garryowen were off to a good start in tonight's Webb Cup final played at Richmond RFC's ground on the Canal Bank.
They failed to maintain that surge and that was to be the end of their scoring for the rest of the half. Three consecutive penalties from the boot of Mark Phayer for Crescent left just a single point between the sides with 26 minutes played and four minutes before the break Evan Moloney scored a crucial try for Old Crescent, converted by Mark Phayer, to give the Rosbrien boys who had a 16-10 advantagen at half time.
Garryowen got off to a good start as the second period got underway, a penalty reducing the lead to 16-13 but six minutes later Niall Liston got over for a second Crescent try that gave them a 21-13 lead going into the final quarter of what was a very entertaining decider.
Garryowen fought back with a converted try that set up a thrilling finale at 21-20 but in a welter of excitement, Joe Barrett got over the Garryowen line for a try, converted by Mark Phayer to seal this cup victory for Old Crescent.
Scorers for Garryowen thirds were Sam Cassidy and Dean Shanahan a try each with Kevin McEvoy kicking two penalties and two conversions.