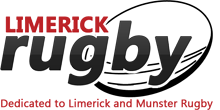 Saints sail on in Webb Cup
St Mary's 30, Old Crescent 14: THE Saints looked as if they were going to ease their way into the next round of the Webb Cup this Friday night in Grove Island but they were pegged back from a 17-0 lead to just three points in the last quarter.
Anthony Morgan was the St Mary's hero, scoring three tries and it was his opening twol both converted by Sean Lyons who also added a penalty, that gave the home side that 17-0 lead. Old Crescent responded with a try by Billy Hederman and a penalty from Brian Clancy to leave the score St Mary's 17, Old Crescent 8 at the break.
The second half saw Crescent enjoy long periods of possession and two penalties from Brian Clancy reduced the lead to 17-14. St Mary's finished in style with Anthony Morgan his hat-trick of tries and Sean Lyons kicking two penalties and a conversion to leave the Saints ahead 30-14 at the final whistle.
In the other game on Friday night, Thomond also got their ticket to the next round of the Webb Cup when they beat UL Bohemian 27-17.