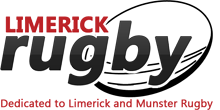 Six local teams still standing in the Junior Cup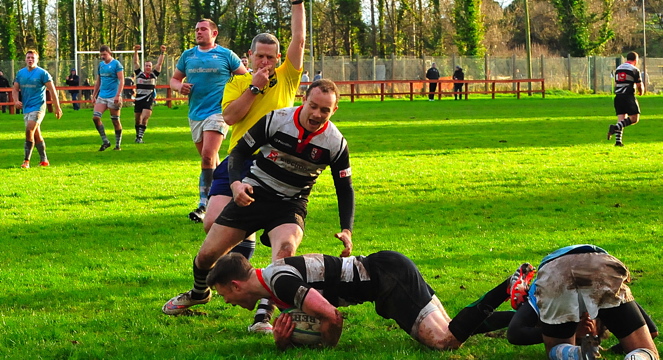 (Joe Mulready, above, scores a crucial try for St Senan's in their win over Garryowen. Pic, JOE BUCKLEY)
By Aidan Corr
THIRTEEN local sides started out around 2pm today on the long journey to Munster Junior Cup success but only six have survived to fight another day in this season's competition.
Out go Thomond, Presentation, Abbeyfeale, Newcastle West, Bruff, St Mary's and Garryowen with holders Shannon, Galbally, Old Crescent, Richmond, UL Bohemian and Young Munster all safely into the next round.
Cashel 38, Thomond 5: The scoreline tells the story of this game played at the Tipperary venue. Thomond could manage just a single try from the encounter with their AIL division two A collegues winning comfortably.
Clanwilliam 18, Abbeyfeale 9: There will be a second Tipperary side in the next round after Clan won this keenly contested game. It is a rare defeat for 'Feale this season and according to their spokesman Conor Prendiville, they will use this experience to their advantage when the league resumes next week-end. Tom Hassett kicked a brace of penalties for Abbeyfeale with Stevie Daly landing a three pointer late in the game.
Galbally 27, Presentation 0: After a poor start to the season, Galbally continue to impress and they were full value for this latest victory over their city opponents. Jack O'Mullane is in rare kicking form all season and he landed a first half penalty that proved to be the only score of the opening 40 minutes.
The second half Pres lose their way with Galbally adding tries from Brendan Childs, Kevin O'Donoghue and Sean Burke while O'Mullane added a second penalty and a conversion.
Newcastle West 13, Thurles 18: The County Limerick side continues to struggle and they will be disappointed with this latest defeat. Sean Murphy scored a first half try for 'the West' and Alan Roche added a conversion and a penalty but they trailed10-13 at the break. Thurles added their second try early in the second half to lead 10-18 and while a second Alan Roche penalty left just five points between the sides, Abbeyfeale just could not make the extra yards that might have given them parity.
"We have had an awful lot of injuries this season and that has not helpled," Newcastle West's Ger Normoyle told us, "but we have no excuses. The better team won in this game."
Old Crescent 14, Nenagh 6: These are good times for Crescent. Their senior side is leading division 2C of the AIL, their under 20s captured the North Munster League and now their junior cup team has advanced to the next round of this provincial competition.
Conor Lenihan kicked three penalties  for Crescent in Rosbrien while David Hurley got the all important try.
Richmond 27, Bruff 0: Played at the Canal Bank venue, Richmond eased their way over this first hurdle and fully deserved their ticket to the next round. Hooker Pat Humpreys set the trend of the game with a try while also dotting down over the line were Gareth O'Hanlon and Keelan Stephenson. Brian Mullins kicked two conversions and a penalty.
Shannon 33, St Mary's 25: The holders saw off the challenge of their local rivals in a highly entertaining game. Barry McGrory kicked three penalties and three conversions for the Parish side, there were tries from Bobby Price and Ollie Lyons while Ciaran Cunnane also kicked a penalty.
St Senan's 22, Garryowen 16: There was a surprise result in Jim Slattery Park with Garryowen going out at this early stage of the MJC.
UL Bohemian v Fethard and District: This game did not take place with the visitors conceding the tie to Bohs.
Young Munster 45, Killarney 0: This result was decided early in the game as Young Munster proved too strong for the Kerry visitors. 'Munsters' are some people's favourites to go far in this competition and this performance will give them a lot of confidence.
RESULTS:
Munster Junior Cup: Carrick-on-Suir 7, U.C.C. 63;
Cashel 38, Thomond 5;
Charleville 3, Highfield 24;
Clanwilliam 15, Abbeyfeale 9;
Clonakilty 17, Fermoy 14;
Cobh Pirates 23, Kinsale 7;
Douglas-Carrigaline 14, Crosshaven 18;
Ennis 25, Tralee 12;
Galbally 27, Presentation 0;
Kanturk 19, Bandon 24;
Mallow 8, Cork Constitution 36;
Midleton v Dungarvan postponed;
Newcastle West 13, Thurles 18;
Old Crescent 14, Nenagh Ormond 6;
Richmond 27, Bruff 0;
Shannon 33, St. Mary's 25;
Skibbereen 29, Ballincollig 3;
St. Senan's 22, Garryowen 16;
Sunday's Well 5, Old Christians 20;
Waterford City v Muskerry postponed;
Waterpark 6, Clonmel 24;
Youghal 27, Dolphin 12;
Young Munster 50, Killarney 0;
Gleeson League B: Thomond 11, Shannon 5;
Donal Walsh Trophy Division 1: Bruff 16, Highfield 11;
Bank of Ireland Munster Club Under 18 Cup Group 1: Skibbereen 29, Cashel 5;
Group 2: Dolphin 27, Dungarvan 3;
Group 3: Bruff 26, Sunday's Wel 0;
Ennis 7, Highfield 7;
Waterpark 41, Mallow 10;
Bank of Ireland Munster Club Under 18 Plate Group 1: Tralee 47, Old Crescent-St. Senan's 0;
Group 2: Cork Constitution 17, Crosshaven 0;
Castleisland-Killarney 14, Thurles 8;
Group 3: Nenagh Ormond 19, Killorglin 22;
Group 4: Clonakilty 8, Young Munster 6;
Cobh Pirates 8, Clonmel 15;
Bank of Ireland Munster Club Under 18 Bowl Group 1: Kanturk 31, Bandon 28;
Group 3: Chorca Dhuibhne 26, Thomond 13;
Bank of Ireland Munster Club Under 16 Cup Group 1: Killorglin 6, Cobh Pirates 3;
Nenagh Ormond 14, Bruff 7;
Group 2: Skibbereen 7, Newcastle West-Estuary 10;
Tralee 12, Bandon 23;
Group 3: Cork Constitution 19, Charleville 13;
Garryowen-Pres-UL Bohes-Newport 32, Mallow 7;
Bank of Ireland Munster Club Under 16 Plate Group 2: Clonakilty 17, Castleisland 3;
Group 3: Sunday's Well 7, Dungarvan 12;
Bank of Ireland Munster Club Under 16 Bowl Group 1: Douglas-Carrigaline 22, Muskerry 29;
Highfield 10, Dolphin 22;
Group 2: Killarney 39, Listowel 38;
Thomond 29, Chorca Dhuibhne 15;
East Under 14 League Final: Clonmel 12, Nenagh Ormond 10;
North Under 15 League: Abbeyfeale 7, Shannon 17;
Thomond 0, Bruff 26;
North Under 14 League: UL Bohemian 5, Ennis 22;
South Under 14 League: Old Christians 0, Bandon 12;
South Under 14 Plate: Cork Constitution 32, Dolphin 12;
Sunday's Well 19, Clonakilty 32;
Schools Barry Cup: P.B.C. 32, Midleton College 10;
Schools Senior Friendly: St. Munchin's 12, St. Michael's 27;
Munster Women's Senior Cup Pool A: UL Bohemian 57, Shannon 0;
Pool B: Tralee 5, Highfield 55;
Girls Under 18 League Final: Abbeyfeale 0, Bantry Bay 20;