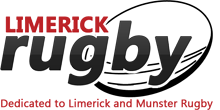 South Africans to play in Limerick in October?
LIMERICK could yet be the venue for a touring South African team next October. Plans are at an advanced stage to host Springs Boys' High School, based a short distance from Johannesburg, with a couple of local clubs and schools in the running to field a team against the tourists at under 18 level.
Interest has been high after this website first ran the story that the South Africans were keen to play in the city.
Last week Springs BHS hosted a two teams (37 boys) from England (Latymer Upper School) for two nights and played them on the Friday. While in Ireland the school will play games in Mullingar and in Dublin.
Springs Boys' High School will be visiting Mullingar from Tuesday the 4th to the 7th of October 2016.
Tour organiser Mark Marais writes:
"The school opened its doors in 1940 with an Irish principal at the helm, Mr Claude Mullen. Being of Irish decent it was decided that the official school colours would be green.
"Springs was a booming gold mining town back then and was opened to accommodate the ever increasing population.
"Today the school caters for the English speaking community with the majority of our learners emanating from previously disadvantaged areas.
Situated on the east of Johannesburg, the school is often referred to as " the small school on the East Rand". We pride ourselves on the excellent academic results achieved by our learners and believe in providing our boys' with a holistic education. Our boys' are exposed to twelve different sporting codes and eleven cultural.
"The rugby team visiting Limerick are certainly not the elite, but mostly a group of boys' that would not have an opportunity to experience travel of this nature.
"Also a number of the boys' families cannot afford this luxury. Many fundraising events have been arranged to assist these boys' financially.
The excitement within the team is growing as a large percentage of the team have never left the borders of the town they were born in. With the prospect of flights and a different country to experience, the anticipation is huge.
"I would like to thank the local rugby club and the members of the community in advance that will be hosting us for the three nights in Mullingar. Your unselfish commitment to this rugby tour will enrich our learners and make dreams a reality."
Anybody in Limerick or surrounding area who would like to assist in any way with the visit of the South African tourists can contact Aidan Corr, 086 2398935.