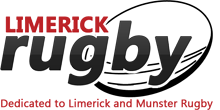 Today's cup ties: Bruff advance but 'Saints' out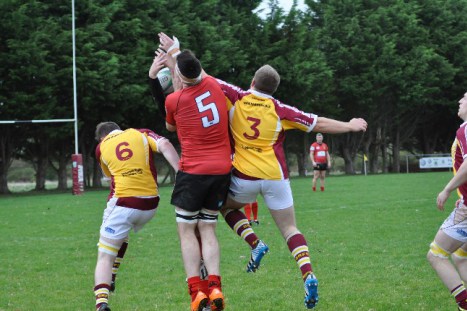 (Action from Bruff v Midleton: Pic. Bruff RFC)
HOT on the heels of their All-Ireland League division 2B 12-29 victory away to Ards last week-end, Bruff continued their recent good form with a 19-point winning margin victory over Midleton in Kilballyowen today.
Man of the match was certainly Bruff fly-half Declan Bannon. The former Young Munster player scored four tries as well as adding a further 14 points from the kicking tee.
Bruff lined out:1.Ray Roche 2.Johnny Clery 3.Colm O'Sullivan 4.Barry Laffan 5.Kevin Madigan 6.Mikey Cooke 7.Andy White 8.Jake Considine 9.Tony Cahill 10.Davy Grady 11.Mark Cosgrove 12.Darragh Mulcahy 13.Sean Darcy 14.Declan Bannon 15.Brendan Deady 16.Davy Horan 17.Timmy Quirke 18.Ger O'Connell 19.Mikey Carroll 20.Tommy Carroll 21.Robbie Finn 22.Stephen Foster.
In the All-Ireland Cup, St Mary's made the trip to Connemara and lost by just two points, 29-27. The Al Blacks were fancied to sail home with ease in this one but the Saints put up a might performance, going down by that margin after a gutsy and thrilling second half.
St Mary's led at half time by 15-13 after trailing 13-0 after just 15 minutes. To their credit, they re-organised well despite being short a significant number of first choice players and were full value for their two point advantage going into the second 40 minutes.
Danny Hickey, Delvin Price, Ger McInerney and Dave O'Leary scored tries for St Mary's with Sean Lyons kicking two conversions and a penalty. The out-half had a chance to bring the game to extra time but his last conversion attempt went agonisingly wide of the upright.
"There were only two players from last season on the team that played in this game," St Mary's Christy McNamara told me. "Most of the guys out there would have played in the Gleeson League and other seconds games so it was a whole new experience for them. Full credit to them for putting in this massive effort."
There is no doubt that St Mary's coaches Keith Matthews and Gordon Ryan will be very happy with the performance of their young crew in this AIL Cup game. Next week-end the first team entertains Waterpark in Grove Island and they are hopeful of having a few players back, including Owen O'Byrne, Brian Purcell, Barry Kelly back as well as Ryan Hartigan, who could be returning after announcing his retirement earlier in the season.