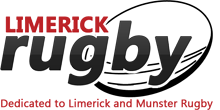 'Walk-over' week-end for junior rugby
(Tom Russell took this cheeky pic of Richmond v Galbally)
THERE are times when one wonders why the North Munster Branch bother making fixtures for this time of the season. Out of seven junior games arranged locally last week-end only one was played. Five others were called off while another has been be-fixed (conditionally) for this Tuesday night.
One reason given was that there were not sufficient referees available because of the Munster Heineken Cup match in France but the main reason was that most teams were unable to field a fifteen.
In another development this Monday night, this website has learned that the O'Carroll Plate will not be played for this season.  Richmond were notified this morning that a decision had been taken to abandon it. They were due to play the winners of Ennis/Shannon in the final. Ennis originally won the game but Shannon objected and won the objection but they also played an illegal player, so both teams have been disqualified and the Plate has been cancelled.
So hats off to Galbally and Thurles who decided to put strong sides on the field for their Manseragh Cup quarter-final in Killinane last Friday night. The Tipperary boys were really up for this one and shocked the home side with 13 points in an exciting first half. Galbally's only response was a penalty from Tony Henebry. The second half was a different affair with the 'Bally boys really stepping up the pressure and they were rewarded when Brendan Childs got in for an unconverted try. Galbally tried hard to get a late converted try but the Thurles defence stood up to the pressure and left delighted with their 8-13 victory.
The eagerly anticipated meeting of Skibbereen and St Mary's in the Munster Junior Clubs Challenge Cup, to be played on Sunday, was called off.
Just for the record, the games that did not take place at the week-end were: Friday night last, Richmond v Shannon or Ennis, called off because of objection; Munster Junior 2 Cup, Saturday, Thomond receive walk-over from Corca Dhuibhne; Bandon receive walk-over from Old Crescent; Munster Senior Seconds League play-off, Highfield receive walk-over from Thomond who couldn't field a team; Munster Junior Clubs Challenge Cup, Skibbereen v St Mary's, called off.
There is a big game down for decision in Annacotty this Tuesday night when two of the city's closest rivals, Thomond and St Mary's meet in the final of the McInerney Cup. Kick off is at 7.15 and this one is worth a visit.