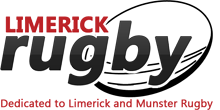 Welcome results for Garryowen, Young Munster and Bruff today

By Aidan Corr
NOT a bad day for Limerick clubs today in the Energia All-Ireland League. In division one Garryowen had a good bonus point win over Ballynahinch in Dooradoyle 25-5, Young Munster also did well in Dublin, getting a 9-9 draw with UCD while in division 2C Bruff continue to reap points with this latest victory over visitors Bangor 17-9.
Shannon went down away to Banbridge 34-14 in 1B and our two teams in 2A, Old Crescent and UL Bohemian also lost.
These results mean that Garryowen are now in fifth place in the 1A table with 10 points with Young Munster remaining second last on 5 points. Cork Constitution lead the table on 17 points. In 1B Shannon are fifth with 10 points, trailing leaders Highfield with 18 points, and in 2A Old Crescent are fifth with 9 points and Bohs are ninth with 2 points.
Bruff in 2C are in second place in the table behind leaders Enniscorthy.
Full details later tonight.