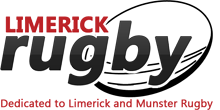 Rugby
By Aidan Corr LIMERICK rugby clubs will look back on season 2019/2020 with mixed feelings. Just when we were looking forward...

THERE was some good news for local clubs this evening with the Irish Rugby Football Union announcing that they will make...
THERE is no lazing around for the athletes of Munster's rugby players. Head of Athletic Performance Denis...