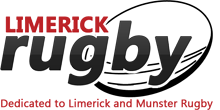 Rugby
By Aidan Corr BECAUSE of the Champions Cup last week-end, Galbally v Richmond was the only game played. This coming week-end...

By Aidan Corr MJL1, Galbally 24, Richmond 13: CHAMPIONS Cup took priority this week-end with just one fixture listed. Richmond made...
(Pictured, Jack O'Donoghue is in international form all season) By Aidan Corr Thomond Park Heineken Champions Cup,...